Progress
2018
Working group members attended the 2018 World Health Summit in Berlin, Germany, in October 2018. They also attended the 2018 Grand Challenges Annual Meeting and the 8th InterAcademy Partnership for Health Young Physician Leaders Programme. See here for a brief report.
Working group lead Meghnath Dhimal (Nepal) participated in the Fifth Global Symposium on Health Systems Research in Liverpool, UK, in October 2018. The theme of the Symposium was  "Health Systems for All in the SDG Era"  which encapsulated the spirit of these commitments and brings them forward into current debates and actions on the SDGs, and especially, Universal Health Coverage (UHC). The symposium was attended by over 2,000 delegates from 146 countries, including Health Policy and Systems Reasearch scholars, practitioners, funders, policy actors, community activists and the media. Over half of the attendees were from LMIC settings, and representative of all regions of the world.  The Symposium was focused on four major sub-themes: multisectoral action, community health systems, engaging the private sector, and leaving no one behind which helped advance conversations and commitments to stronger and more resilient health systems.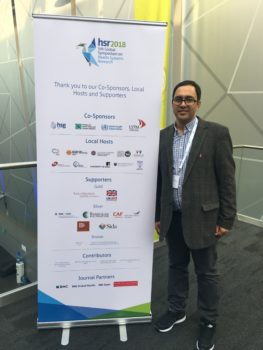 Group member Meghnath Dhimal (Nepal) attended the Prince Mahidol Award Conference 2018 in Bangkok, Thailand from 29 January to 3 February 2018. As a panellist for the session on 'Climate Change and Emerging Diseases: The Importance of Resilient Societies', Meghnath gave a talk about the increasing risks of emerging vector-borne diseases in the Hindu-Kush Himalayan region due to climate change.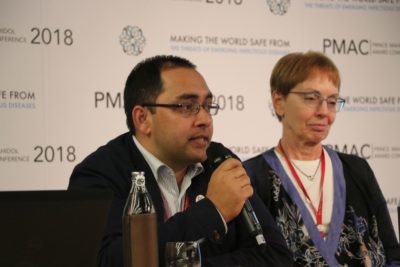 Meghnath also co-organised the Fourth National Summit of Health and Population Scientists with the theme of 'Advancing Evidence on Changing Health Systems in Nepal' in Nepal in April 2018. He presented a paper on Climate change, global health and funding opportunities to low and middle income countries. The summit was attended by more than 1200 participants, mostly young scientists. It provided a platform to discuss health research agenda among researchers, policymakers and external development partners.
2017
Group member Meghnath Dhimal (Nepal) attended the "Young Leaders for Health Conference – Health in the SDGs" in 2017.
He was also involved in an international seminar on 'Accelerating Sustainable Development Goals progress for Health, Nutrition and Environment' at the Nepal Academy of Science and Technology (NAST), Kathmandu, Nepal, in November 2017.
Outcomes