What's stopping young African scientists from achieving their potential
The Global State of Young Scientists Africa (GloSYS Africa) project was recently featured in an expose that appeared in The Conversation.
The article (available here) presents the project's initial findings, which point to a lack of mentoring, resources and funding as key issues that young scientists face across the continent.
The GloSYS Africa project uses an online survey (currently open to respondents) and in-depth interviews to gather as much detail as possible to help address the issues that these researchers face.
More information is available at the project's website here.
Membership Call 2019 – now closed.
The Membership Call 2019 is now closed. For those who did not make it in time: Please return in July 2019 for the next chance to apply for membership with the Global Young Academy.
Until then, subscribe to or like our Facebook page for all the latest news, follow us on Twitter – and continue to check out our website for more information on our current and upcoming activities, initiatives and events.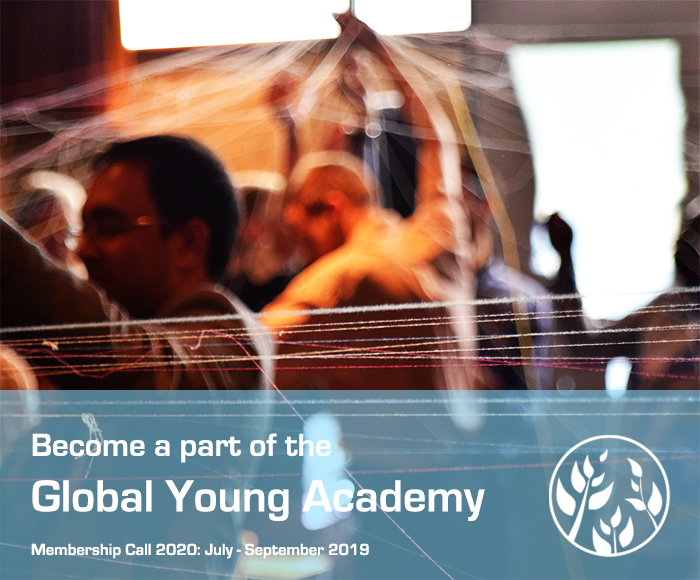 Want to hear from the GYA?
To comply with the European Parliament's data protection guidelines enacted on 25 May, we have revised our privacy policy and suggest you take a moment to familiarise yourself with it.
Please note that in order to continue sending you our newsletter, we require you to reconfirm your subscription.
You will have received an email to do so – in case you have not received this reconfirmation email, simply sign up once more for the newsletter in our easy-to-use form below: newsletter sign-up. You can always contact us through this website's contact form or by sending us an email if you have questions or want to make sure you are included in our external communications.