New Leadership Elected
On 10 May 2018 during the 8th Annual General Meeting in Pattaya, Thailand, the members of the Global Young Academy elected a new leadership body to represent the organisation and lead it through the upcoming year.
The new leadership team has members from Africa, Asia, America, Europe and Australia, and consists of seven female and four male early-career researchers. Tolu Oni (UK) and Connie Nshemereirwe (Uganda) were elected as Co-Chairs. You can get to know the entire team here.
Trust in (Young) Scientists GYA incubator at ALLEA's General Assembly 2018
Following a call by the European Federation of Academies of Sciences and Humanities (ALLEA), GYA Members Lisa Herzog (Germany) and Robert Lepenies (Germany) and GYA alumnus Martin Dominik participated in a video competition on "Trust in science".
Members of the Trust in (Young) Scientists incubator group wrote a statement, composed during the AGM, titled "Trust in Science – A Young Scientists' Perspective", addressed to ALLEA's working group on Truth, Trust and Expertise.
Read the entire news article here.
Welcome GYA New Members 2018!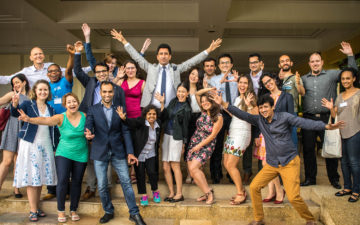 The Global Young Academy is pleased to welcome 45 new members to its ranks. All new members were inaugurated at the opening of the 8th International Conference of Young Scientists and GYA Annual General meeting in Pattaya, Thailand on 8 May. Read more about 2018's new members here.