New Leadership Elected
On 10 May 2018 during the 8th Annual General Meeting in Pattaya, Thailand, the members of the Global Young Academy have elected a new leadership to represent the organisation and lead it through the upcoming year.
The new leadership-team with members form Africa, Asia, America, Europe and Australia consists of seven female and four male early career researchers. Tolu Oni (UK) and Connie Nshemereirwe (Uganda) are elected as Co-Chairs. You can get to know the entire team here.
2019 AGM planning is underway
The theme of the 2019 Anniversary AGM and Conference will be 'Re-Enlightenment? The role, relevance and realities of Enlightenment ideas in a globalized world'.
If your Working Group or Incubator Group is interested in this theme, and would like to organise a pre- or post-AGM workshop, please contact the 2019 and by the end of May.
The conference will take place from 29 April – 3 May in Halle (Saale), Germany, at the German National Academy of Sciences Leopoldina.
Welcome GYA New Members 2018!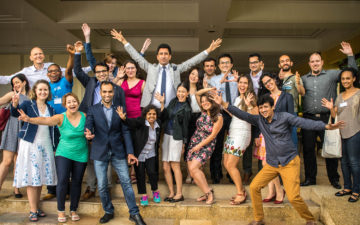 The Global Young Academy is pleased to welcome 45 new members to its ranks. All new members were inaugurated at the opening of the 8th International Conference of Young Scientists and GYA Annual General meeting in Pattaya, Thailand on 8 May. Read more about 2018's new members here.