Country of Residence
Mongolia
Discipline(s)
popular science, health policy, air pollution
Medicine and health, SOCIAL SCIENCES
Find out more
Institution
Secretariat of Parliament
Parliamentary Research Service
State Palace
Ulaanbaatar-14201
MONGOLIA
Research Interests
Health Policy, Maternal & Child Health, Pandemic Preparedness in Low- and Middle-income Countries
Topics to speak on:
Popular Science, Child Health and Development, Health Policy, Pandemic Preparedness, Air Pollution
Words of Wisdom
Knowledge gives you perspective. Taking action will take you there.
Biography
Amarjargal specializes in maternal and child health and health policy. She currently works at the Parliamentary Research Institute, and plays a central role in conducting health policy research on a range of topics, from health system financing to international regulations of medicines. Also, she worked as a sub-committee member of a legislative bill on medicines and medical devices.
After completing her medical degree, she took her master's degree in global health policy from the University of Tokyo and a doctoral degree in public health from Kyoto University. She worked at Japan's National Center for Child Health and Development as a research fellow in Tokyo. After obtaining her doctoral degree from Japan, she relocated to work in Canada's Ottawa Hospital Research Institute as a postdoctoral fellow. While working at these institutes, she obtained research grants and published her research work in the maternal and child health field. Moreover, she also regularly peer-reviews articles for international peer-reviewed journals.
Her research has recently focused on ensuring health system preparedness in the event of an outbreak, as she has seen how the global and national health systems struggle during the COVID-19 pandemic. Her work with colleagues was published in The Lancet Regional Health – Western Pacific, outlining the challenges and achievements of the steps taken to combat the pandemic in Mongolia and what the country needs to focus on to prepare for future emergencies. She is interested in contributing to research topics toward better pandemic preparedness.
Concerned about air pollution and environmental issues, she has been a science advocate and focused on tackling air pollution issues in her country. She is conducting a "Let's take action" project combining technological interventions with a community-focused workshop to reduce children's at-home CO exposure and other air pollutants along with team members.
She is passionate about disseminating global scientific achievements locally and increasing the scientific potential of the nation.
Awards
Selected as a principal participant in the Summer 2022 Study of the U.S. Institute (SUSI) for Scholars on Workforce Development, University of Montana. USA (2022)
Outstanding mentor of "Women in Medicine" mentorship program, Ulaanbaatar. Mongolia (2021)
9th The InterAcademy Partnership (IAP) Young Physician Leaders (YPL) Programme in conjunction with the World Health Summit in Berlin, Germany. (2019)
Mongolian Young Leaders Program, New York City. USA (2019)
Grant-in-Aid for Young Scientists from The Japan Society for the Promotion of Science (2016-2017)
Activities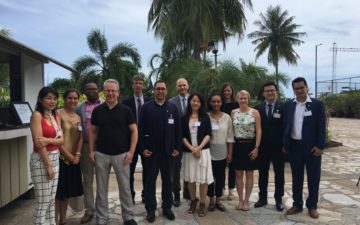 Working Groups