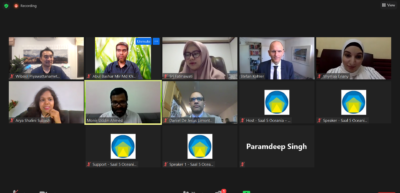 GYA Global Health working group members and members of National Young Academies and similar early to mid-career scientist networks organised and contributed to a New Voices in Global Health session about "Perspectives and responses of young scientists to the coronavirus pandemic" at the digital World Health Summit in Berlin, Germany, in October 2020. The session was co-hosted by GYA members Shalini Arya (Institute of Chemical Technology, India) and Stefan Kohler, (Heidelberg University, Germany) and alumnus Wibool Piyawattanametha (King Mongkut's Institute of Technology Ladkrabang, Thailand), and GYA members Daniel Limonta (University of Alberta, Canada), Sri Fatmawati (Institut Teknologi Sepuluh Nopember, Indonesia) and Monir Ahmed (Qassim University, Saudi Arabia) all gave presentations.
Together with members from the Egyptian Young Academy of Sciences, Indonesian Young Academy of Sciences, Indian National Young Academy of Science, and the National Young Academy of Bangladesh they shared their perspectives and responses to the coronavirus pandemic. Six speakers gave lightning talks, discussing diagnostics of COVID-19 in Africa, expedited collaboration and partnership in the scientific community as response to pandemics, Indonesian young scientists' responses to COVID-19, why the COVID-19 pandemic builds a case for investing in Young Physician Leaders, why science does not work without the right political leadership, and the missing link between science and society during this pandemic. Each lightning talk provided or created a common basis for discussion, which was a key element of the session to hear New Voices in Global Health among the audience and speakers.
The New Voices in Global Health session of the 2020 World Health Summit can be viewed on YouTube here.