When it became clear that the GYA's 2022 Annual General Meeting and International Conference of Young Scientists would have to be a hybrid meeting – in Fukuoka, Japan, but with most GYA members taking part online – the GYA decided to use travel funds to support smaller, member-organized networking meetings. Co-funding was offered for participants from low- and middle-income countries, and regional meetings with shorter travel time were encouraged.
Working with this one-time funding scheme, altogether six groups from different world regions organised gatherings from June 2022 through March 2023. The Networking Meetings aimed to foster interdisciplinary and international connections among GYA members, with a focus on network-building.
The 2022-23 Networking Meetings took place in:
In June 2022, six GYA members met in Pretoria, South Africa: Devina Lobine (University of Mauritius), Mareli Claassens (University of Namibia), Michael Backes (University of Namibia), Oladapo Adeyemi Aremu (North-West University, South Africa), Priscilla Kolibea Mante (Kwame Nkrumah University of Science and Technology, Ghana), and Roula Inglesi-Lotz (University of Pretoria, South Africa). The group participated in the 2022 hybrid AGM and Conference together using remote technology, and discussed how to strengthen GYA member representation in southern Africa. They also met GYA alumni in the region: Connie Nshemereirwe (Actualise Africa, Uganda), Eva Alisic (University of Melbourne, Australia), and Bernard Slippers (University of Pretoria, South Africa)
In September 2022, new GYA member Amarjargal (Amaraa) Dagvadorj (Parliamentary Research Institute, Mongolia) travelled to Germany and visited GYA members and alumni in three different cities, and the GYA Office in Halle (Saale).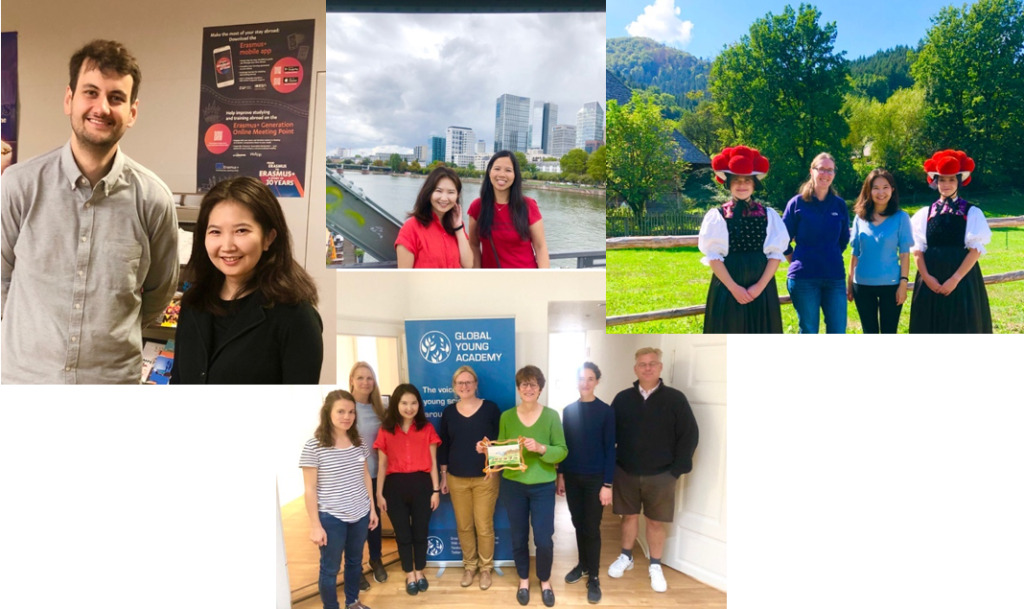 At the Oberwolfach Research Institute of Mathematics she met fellow new member Carina Geldhauser (Lund University, Sweden), where they discussed the challenges involved in raising the voice of young scientists. Carina had work connections to Mongolia and shared on-the-ground experience with the problems young Mongolian scientists faced. In this regard, Amaraa shared about a project she works on: the Sexy Science Project, aiming to elevate the voice of young scientists in Mongolia through scientific talks in entertaining manner. In Karlsruhe, Amaraa visited GYA alumnus Robert Lepenies (Karlshochschule International University, Germany) and exchanged about air pollution issues and measures to tackle these worldwide. Robert, who collaborated on a GYA interdisciplinary grant project on this topic, advised on a project Amaraa is responsible for (Breathe Mongolia), and they discussed how the citizen science approach could render the project more impactful by involving participants at every stage. A meeting between Jane Yau (DIPF Leibniz Institute for Research and Information in Education, Germany) and Amaraa also took place in Frankfurt, where they exchanged information about how foreign scientists live and work abroad, and about engaging in Working Groups within the GYA. Finally, a visit to the GYA Office in Halle (Saale) provided Amaraa with guidance from Anna-Maria Gramatté for establishing a Young Academy in Mongolia.
5 GYA members and alumni met in Kuala Lumpur in September / October 2022 for a 2-day networking meeting. Chan Siok Yee (Universiti Sains Malaysia), Fatin Aliah Phang (Universiti Teknologi Malaysia), Lim Boon Han (Universiti Tunku Abdul Rahman, Malaysia), Renard Siew (Centre for Governance and Political Studies, Malaysia), and Sri Fatmawati (Institut Teknologi Sepuluh Nopember, Malaysia) exhanged about their research areas, finding common interests and cross-cutting issues. They discussed potential ideas for engagement within GYA working groups, particularly the Climate Change and Disaster Risk Reduction and Scientific Excellence WGs, and future interdisciplinary grant ideas.
A networking meeting for GYA members from Latin America was held in November/December 2022 in Leticia, Colombia. Leticia is located in the heart of the Amazon, in the triple border of Colombia-Brazil-Peru, where, among other research, multilateral studies on the Amazon rainforest, its cultures and the integration of knowledge are carried out. The meeting brought together five Latin American GYA members: Paulina Carmona Mora (University of California-Davis, USA), Neil Guerrero-Gonzalez, (Universidad Nacional de Colombia), Carlo Altamirano-Allende (ALBAA Tech, Mexico), Luciana Balboa (Institute of Experimental Medicine-CONICET, Argentina), and Executive Committee member Alma Hernández-Mondragón (Center for Research and Advanced Studies of the National Polytechnic Institute, Mexico).  
The main objective of this regional GYA meeting was to facilitate cooperation among young researchers in Latin America to address local challenges that delay scientific development towards a sustainable future for the region. In addition, GYA members participated as speakers at the Latin American Meeting on Science Diplomacy organized by the National University of Colombia, and as organizers of the Science Leadership Program in Latin America and the Caribbean (LAC-SLP).  
Based on their experience in capacity building in Benin and with the support of the Global Young Academy (GYA), Benin Young Academy of Science (ASJB) initiated a workshop for students and young scientists in Benin. The GYA Networking Meetings provided an opportunity to bring together 3 members of the GYA from West and Central African countries to address the challenges faced by young scientists and, in the context of the workshop, specifically build their capacity in soft skills. GYA members
Victorien Tamègnon Dougnon
(University of Abomey-Calavi, Benin),
Chika Ejikeugwu
(Enugu State University of Science & Technology (ESUT), Nigeria) and
Justine Germo Nzweundji
(Institute of Medical Research and Medicinal Plants Studies/ Ministry of Scientific Research and Innovation, Cameroon) collaborated with the ASJB to develop a curriculum that meets the needs of young scientists in Benin, and the workshop was held in February 2023. See a full workshop report
here.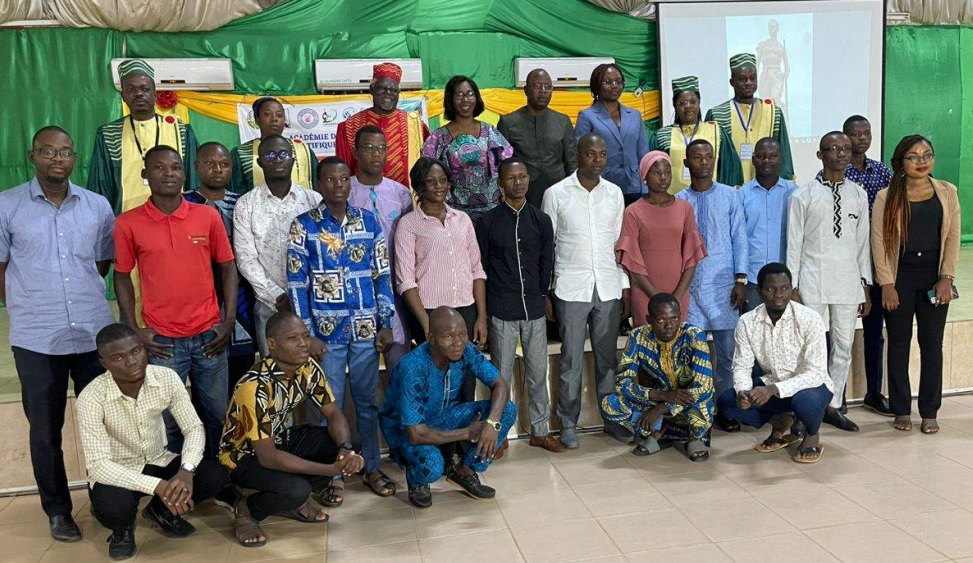 GYA members Ramia AL Bakain (The University of Jordan, Jordan), and Shymaa Enany (Suez Canal University, Egypt) met twice in February, first in Egypt, then in Jordan. They visited different universities and research centers in each country and explored the available instruments and machines, met young scientists, researchers, and technicians, and discussed with staff members. By implementing the technology available at the Suez Canal University and children cancer hospital in Egypt and the University of Jordan in Amman, a new scientific project has been developed that has environmental and health impact.
Ramia and Shymaa made plans to submit a proposal for a grant to start a new scientific project together. Moreover, they discussed possible joint proposals for their master students with a program of exchange. In addition, they aim to apply for a TWAS workshop to expand their networking and increase visibility.