Country of Residence
Nigeria
Discipline(s)
Microbiology
Biology, Medicine and health
Institution
Enugu State University of Science & Technology (ESUT), Nigeria

Research Interests
Antimicrobial Resistance, Infectious Diseases, Novel Drug Discovery, Bacteriology, Virology
Topics to speak on:
Antibiotic Resistance, Bacteriology, Pharmaceutical Microbiology, Personal Development, Postdoc Applications
Words of Wisdom
The goal of education should be for empowerment of the man, and not for employment. You must invest in yourself as a young person via conscientious reading because it is the only way that you can emancipate yourself from mental slavery and imprisonment.
As a young person, don't allow anybody, whomever that person may be, to discourage you from believing in yourself and in your abilities. Always know that you can achieve anything that you dream for yourself, your family and for your nation.
There is no impossibility! The only impossibility lies in you not trying. You can achieve your dreams, only if you get to work.
Biography
Chika Ejikeugwu is a Fellow of the Alexander von Humboldt (AvH) in Germany. He holds a PhD in Pharmaceutical Microbiology and Biotechnology from Nnamdi Azikiwe University, Awka, Nigeria (2017). He is the Founder of www.MicrobiologyClass.net, an online platform for resources in the field of microbiology. Dr. Ejikeugwu is a Senior Lecturer & Researcher with Enugu State University of Science & Technology (ESUT), Nigeria. He is currently a Senior Research Fellow at the Helmholtz-Zentrum für Umweltforschung (UFZ), Leipzig, Germany. His research profile in the area of antimicrobial resistance is unique and attests to his research independence in antibiotic resistance research in Nigeria as a young and upcoming scholar and researcher. With over 100 research (journal) publications in top journals, Dr. Ejikeugwu's research undertakings in the area of antibiotic resistance has earned him many academic awards and research impact across the globe.
Awards
Alexander von Humboldt (AvH) Georg Forster Research Fellowship for Experienced Researchers, UFZ, Leipzig, Germany.
Young Investigator Award on Antimicrobial Resistance, Institute Mérieux, France.
DAAD Fellowship 'Research Stays for University Academics and Scientists', BAM Institute, Berlin, Germany.
Matsumae International Foundation (MIF) Postdoctoral Fellowship Award, Kyoto University, Japan
National Young Researchers Prize in Microbiology, from Nigerian Young Academy (NYA)
Bill & Melinda Gates Foundation Global Health Travel Award to British Columbia, Canada
Activities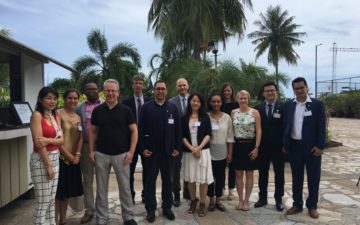 Working Groups