Progress
For GYA members and alumni only: connect to the group, collaborate and discuss with other members on the GYA-internal Agora platform here.
2019
February 2019 : Group members participated in the setting up of a crowdsourced household energy use photos database (as part of bachelor students ICT course and hand-ons homework at Faculty of Science and Technics, Abdou Moumouni University). This activity registered 610 photos from 305 contributors and aims at monitoring access to affordable, clean and reliable energy services (SDG 7)  in Niamey, the capital of Niger.
January 2019 : Participation in the Islamic Development Bank (IsDB) "Transformers Roadshow Competition" in Niger. This international event dedicated to Science, Technology and Innovation promotes the UN Sustainable Development Goals, in particular SDGs 1, 2, 3, 4, 5 and 7.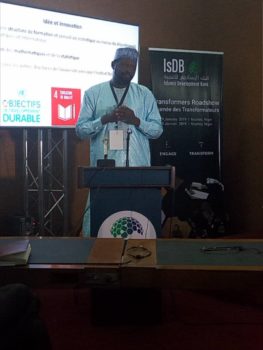 2018
December 2018: Promotion of citizen science during the Niger Science Week (as part of the Next Einstein Forum Africa Science Week)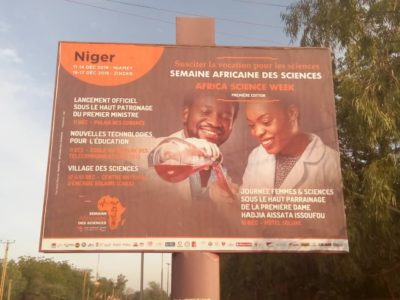 November 2018: Training Workshop on Citizen Science, Open Data and UN SDGs for 60 Bachelor Students from the Faculty of Sciences and Technics (Abdou Moumouni University). This activity has been conducted as part of the Scientific and Cultural Week's activities.
November 2018: Photos competition on science and sustainable development to introduce Abdou Moumouni University students to the concept of citizen science as a mean of collecting, disseminating data and information in a collaborative manner. Photos needed to be linked with one or several of the 17 SDGs.
November 2018: Public Conference (at Abdou Moumouni University) as part of the UNESCO World Science Day for Peace and Development. The theme for 2018 was "Science, a Human Right", in celebration of the 70th anniversary of the Universal Declaration of Human Rights and of the Recommendation on Science and Scientific Researchers.
September 2018: Participation in the 1st edition of the ReSAKSS Data Challenge. A self-graded data literacy quiz (which integrates some aspects of the UN SDGs) has been proposed and is available here.
August 2018: Group members were involved in the identification of Niger National Priorities (targets and indicators) for the implementation of the SDGs and data gaps from the national voluntary review of  June 2018.
This GYA Incubator has started work in July 2018.
Outcomes