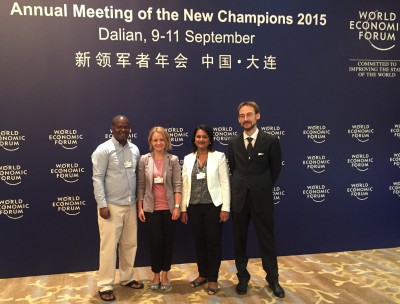 The Annual Meeting of the New Champions took place from 8 – 11 September 2015 at the World Economic Forum (WEF) in Dalian, China. It was attended by four members of the Global Young Academy (GYA) namely Ivana Gadjanski from Serbia, Vidushi Neergheen-Bhujun from Mauritius, Michael Bronstein from Switzerland and Noble Banadda from Uganda.
Every year, the World Economic Forum (WEF) selects up to 40 extraordinary young scientists under the age of 40 to participate alongside more than 1,500 business, government and civil society leaders from over 90 countries in the Annual Meeting of the New Champions. The nominees should possess exceptional creativity, thought leadership and growth potential in their field of research, demonstrate a global mind-set and strong alignment with the Forum's mission. Young scientists were selected from all regions of the world and from a wide range of disciplines with a view to bringing value to the meeting under the theme of Charting a New Course for Growth.
The participation in the conference has been satisfying and productive in several ways. For instance, Michael Bronstein gave a lecture at the Betazone session: How to Build an Intelligent Machine, a session dedicated to the vision about the future of artificial intelligence and machine learning. Michael presented his vision on the role of image perception and 3D sensing technologies he has been working on at Intel.
Noble Banadda, Michael Bronstein and Ivana Gadjanski contributed to the WEF Agenda in Focus: Inside Science blog series. Ivana Gadjanski also participated at the Briefing Session: Unexpected Discoveries – Young Scientists at AMNC.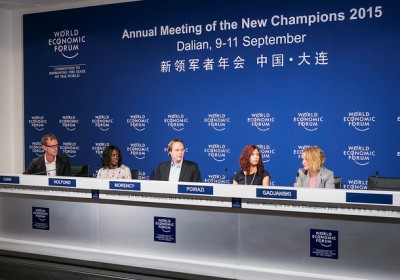 It has been a very positive and enriching experience for the GYA members in terms of interaction and multidisciplinary exchange with global leaders.
The GYA members, introduced the GYA to the other Young scientists at the WEF and invited them to apply for membership by 27 September 2015. Particularly Vidushi Neergheen-Bhujun was very active in promoting GYA and presenting its program and the new membership call via the GYA brochure.
This has been a rich experience to explore the influence of new business models, industries and technologies in the context of sustainable and inclusive growth.
The full report is available here: WEF New Champions 2015 report