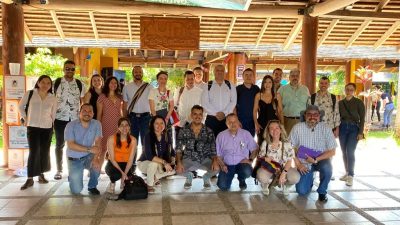 In late November, the group supported the National University of Colombia's first Latin American meeting on Science Diplomacy with logistics and co-funding. The meeting took place at the UNAL campus in Leticia, Colombia, organized mainly by group member Neil Guerrero-Gonzalez. The group co-leads Paulina Carmona-Mora and Luciana Balboa as well as  members Sandra Lopez-Verges and Alma Hernandez-Mondragon represented the group in different sessions, including a session on Science Diplomacy in the Americas, GYA member Carlo Altamirano-Allende also participated in the meeting.
In September, group co-lead Paulina attended the Global Conference for Diaspora Networks  in Science. She arranged a session  and gave a talk on "Connecting young scientific diasporas through academies", where she shared insights about the work of the GYA. The conference was organized by the Society for the Advancement of Science in the Arab World (SASTA). Watch the full session here.
Group member Felix Moronta  gave a presentation  at the GYA online event "Young and Global – A perspective on today's challenges in science" together with other GYA members. This event was part of the Science Summit of the United Nations General Assembly (UNGA77). Read more about the session and watch the full presentation here.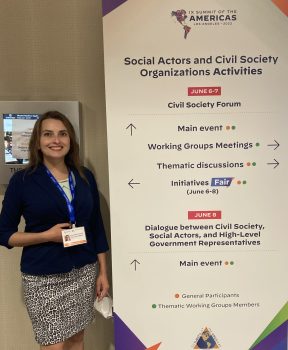 In June, group co-lead Paulina attended the IX Summit of the Americas as social actor at the Civil Society Forum & Dialogue between Civil Society, Social Actors and High-Level Government Representatives. The event, hosted by the US Government in Los Angeles is the main gathering for heads of state of the Americas. Paulina participated in the thematic discussions, including health and resilience, democratic governance, digital transformation, and clean energy among other topics, as well as in the activities fair and the Summit presidential inauguration session.
In April, group members Sandra López-Verges (Panama) and Alma Cristal Hernández Mondragón (Mexico) participated in the first course on Scientific Diplomacy in Spanish, in San José, Costa Rica. The course was organized by the University of Costa Rica in coordination with the Multicountry Office of the UNESCO in San José, the Ministry of Foreign Affairs and Worship, the Red Government Scientific Advisory Council (INGSA Latin America) and the Central American Integration System and SciDipGLOBAL, and aimed to bring together the scientific community in priority areas for the region's sustainable development, with the diplomatic community, to transfer skills in Science Diplomacy between both spheres, and thus support the construction of a bridge between the academy and decision-makers of decision.
In 2022, the group acts as outreach partner for the Journal of Science Policy and Governance's special issue: Innovations in Science Diplomacy: Structures, Policies & Governance for the New Decade. For this, the group supported the co-organization of a  Science policy paper writing workshop on diplomacy issues with the JSPG.