From 6-8 October 2016, the University of Pretoria in South Africa hosted another Africa Science Leadership Clinic. The event brought together 15 African young leaders from different African countries and varying scientific disciplines. Participants represented fields as varied as Media and Gender Studies, Education, Psychology, Molecular Ecology, Chemistry and Pharmacy.
The Clinic's programme presented an opportunity for discussion on leadership style, effective group and workshop structure, methodology, funding and organisation. As a highlight, the programme featured innovative science communicator and plant biotechnology expert Professor Nox Makunga from Stellenbosch University. With her presentation, Professor Makunga brought an increasingly significant skill for young researchers to the table: effective science communication.
The programme commenced with a group exercise in "creating a community of practice" and closing remarks by Global Young Academy member and Project Leader Bernard Slippers.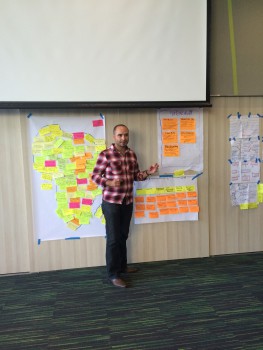 The Global Young Academy was present with the following members and alumni respectively:
Abdeslam Badre (member)
Connie Nshemereirwe (member)
Eva Alisic (member)
Bernard Slippers (alumnus)
Emmanuel Iyayi Unuabonah (alumnus)
Abidemi James Akindele (alumnus)
The participating researchers are united in their goal to discover and develop ways of promoting national and regional science leadership programmes for teachers and students alike. Events like the Africa Science Leadership Clinic facilitate the development of effective transdisciplinary networks while enabling young researchers to strengthen their leadership skills.
For more information on the Africa Science Leadership Programme, please visit our website or click here for the project website.