The World Science Forum is a bi-annual forum on the social and economic relevance, influence and responsibilities of science. The 8th biennial meeting, with the theme 'Science for Peace' was held at the Dead Sea in Jordan, from 7-10 November 2017. Around 900 speakers from over 100 countries participated, with altogether around 3,000 conference attendees. The WSF closed with the adoption of a Declaration on 'Science for Peace'.
The Global Young Academy was represented at the forum with 28 members and alumni attending, speaking and participating in panels and special sessions. In addition, the GYA was also actively involved in co-organising the pre-forum workshop 'Avoiding the Weaponisation of Research', the Thematic Session 'Empowering scientists and society to support the SDGs: a MENA perspective' and the Special Plenary Session 'Young Researchers Identify Skills of the Future to Advance Science Diplomacy and Society'.
Passionate Scientists as Educators
In the plenary session Promoting Inclusion through Science Education, Outreach and Engagement on 7 November, GYA alumna and immediate past Co-Chair Orakanoke Phanraksa (Intellectual Property Consultant, National Science and Technology Development Agency, Thailand), spoke on the issue of science-based learning and the status of evidence-based thinking around the world. The session explored capacity building and knowledge transfer programmes in education, how to to alleviate inequalities, and efforts to capitalise on innovative ICT developments.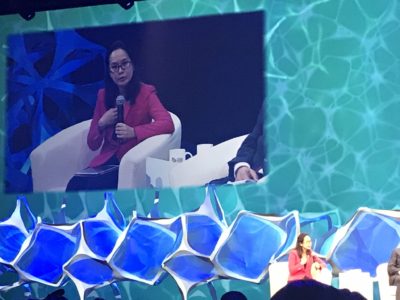 Water and Sustainable Development
GYA alumnus Jauad El Kharraz (Head of Research / General Secretary, MEDRC Water Research) spoke as a panelist during an AAAS-organised thematic session on 7 November, Connecting Scientists with Policy and Diplomacy for Peace and Sustainable Development. The session discussed the need to engage and nurture a new generation of global scientific leaders to meet current and future demands at the science-policy interface, with special emphasis on strategies to accomplish this in the Middle East. Jauad El Kharraz was also a speaker in the plenary session The Energy/Water Nexus – Intelligent Management for Sustainability and Fairness on 8 November, where he advocated that cooperation and open communication on water and energy issues between states where political tension exists can help to build trust and promote sustainable development goals.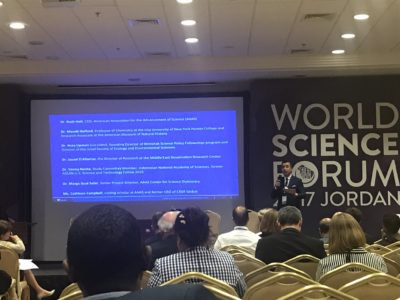 Freedom and Responsibility of Science and Research
The Future of the Universality of Science was the topic of a thematic session on 7 November, organised by the Committee on Freedom and Responsibility in the conduct of Science (CFRS) of the International Council of Science (ICSU). GYA member Roberta D'Alessandro (Professor of Language Variation, Utrecht University; member of CFRS) spoke about responsibilities of scientists and accountability.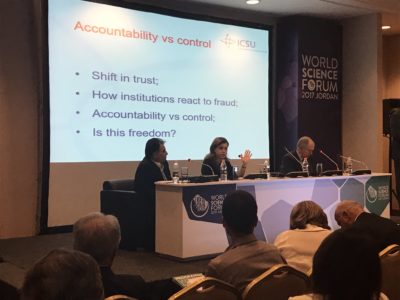 Women in Science
GYA alumna Amal Amin (Advisory Board member, Egyptian Young Academy) moderated a special session on the Promotion of Arab Women in Science on 8 November. She also participated as a panellist, along with alumnus Jauad El Kharraz, in the special session Gender Summit platform for the Arab World on 10 November. The session will explore establishing a Gender Summit platform for the Arab World, which would join similar platforms already active in Europe, North America, Asia Pacific, Africa, and Latin America.
Narita Vanny, GYA alumna (Biodiversity Study Committee, Indonesian Young Academy of Sciences), was a speaker in the thematic session Women as Leaders for Diversity and Development on 8 November, which focused on how to support more women leaders in STI fields.
Open Science and Open Data
In the plenary session The Opportunities and Challenges of Digital Transformation on 9 November, GYA alumna Sabina Leonelli (Professor of Philosophy and History of Science, University of Exeter) spoke about her research on open data for society as well as on the need for ethical regulations and government support. For big data and open data to serve a global society, new forms of data mining, analysis, and reuse will be needed.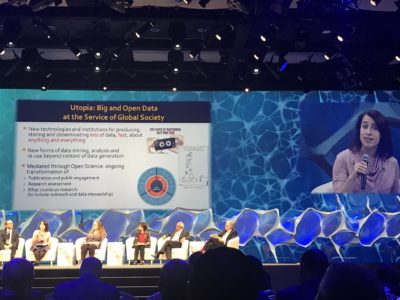 Science and Society in support of the Sustainable Development Goals
GYA members Eva Alisic (past GYA Co-Chair, Senior research fellow, Monash University) and Isil Kurnaz (Gebze Technical University, WG leader Science Education for Youth) spoke at the thematic session Empowering scientists and society to support the SDGs: a MENA perspective, organised by the InterAcademy Partnership (IAP), GYA and UNESCO. Eva Alisic discussed an IAP project she is involved in, developing a guide for academies and other professional organizations on engaging in the policy process to implement the UN Sustainable Development Goals. Isil Kurnaz talked about science outreach for the UN SDGs, and used activities of the GYA Science Education for Youth working group as an example.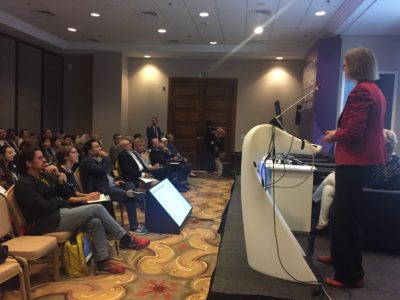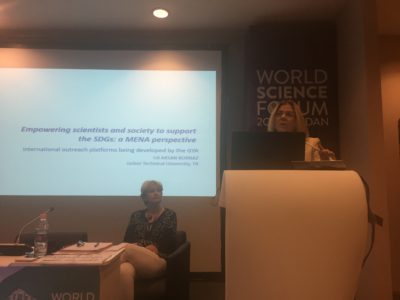 Young Researchers on Science Diplomacy
For the GYA, a highlight of the WSF was the special plenary session  Young Researchers Identify Skills of the Future to Advance Science Diplomacy and Society on 9 November, organised by the IAP, GYA, WAYS, UNESCO and ICORSA. GYA members Yusuf Baran (Abdullah Gul University, Izmir Institute of Technology), Tolu Oni (GYA Co-Chair, Associate Professor, University of Cape Town) and Alexandar Kagansky (GYA Executive Committee, University of Edinburgh) spoke on the panel and GYA alumnus Martin Dominik (Reader in Physics & Astronomy, University of St Andrews) moderated. Panellists presented examples of science diplomacy activities to inspire and engage more young scientists and researchers to be active beyond their discipline.
[youtube id="BS9CvMEbt6E"]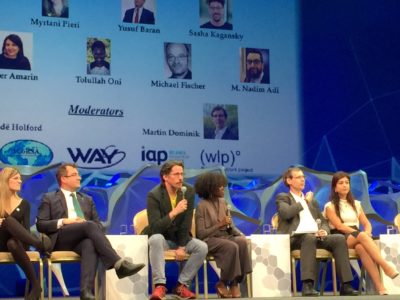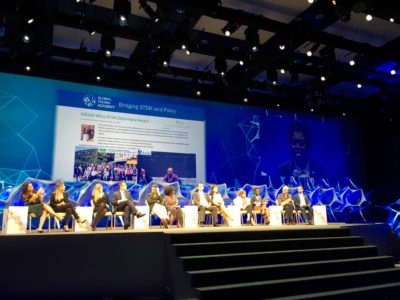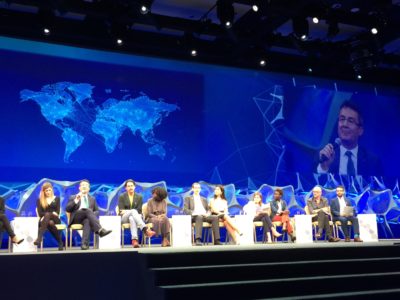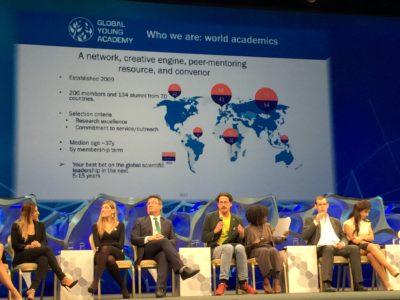 Science Education and Outreach
A delegation of students from the Jubilee High School of science in Jordan discussed science and research careers and the role of science in society with GYA members and alumni.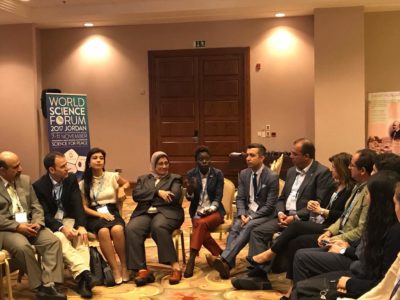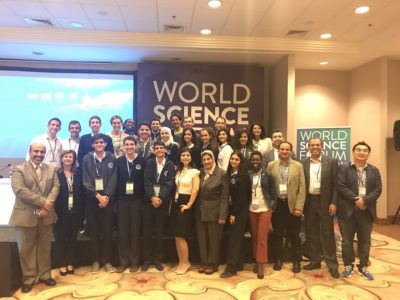 Between the Scenes
GYA members and alumni had many chances to meet and collaborate at this year's World Science Forum.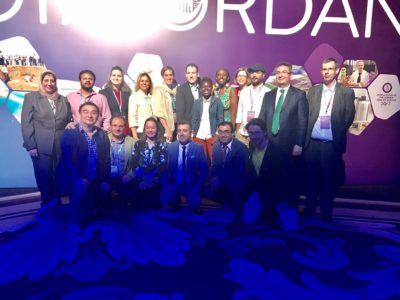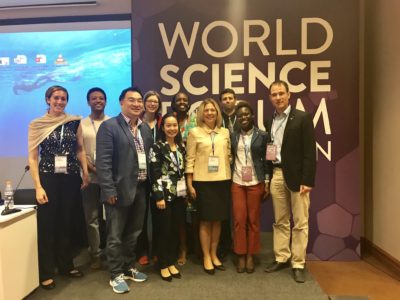 About the World Science Forum
The World Science Forum emerged from the 1999 World Conference on Science for the Twenty-First Century, held in Budapest, Hungary. The Hungarian Academy of Sciences, working with UNESCO, the International Council for Science (ICSU) and the American Association for the Advancement of Science (AAAS), established the Forum, to take place every two years in Budapest; later it was agreed to hold every other forum in the developing world.
See the complete programme, as well as videos of plenary and special sessions, which will be available on the WSF website shortly.