The 2019 World Science Forum (WSF) brought together over one thousand scientists and scholars, policymakers, society, industry and science communicators to discuss 'Science, Ethics and Responsibility' in Budapest, Hungary from 20-23 November 2019. At least one early- to mid-career researcher spoke on each of the five plenary sessions at the forum.
The high rate of inclusion of the voice of early-career researchers was facilitated by the GYA, which joined the WSF Steering Committee in February 2019, represented by Co-Chair Connie Nshemereirwe (Uganda). Selection and nomination of young scientist plenary panelists was coordinated by the GYA, together with the InterAcademy Partnership (IAP), the World Association of Young Scientists (WAYS), and the International Consortium of Research Staff Associations (ICoRSA).
Throughout the conference, GYA members and alumni, as well as members of national young academies and many other young scientists, were active as moderators, speakers and panel discussants. A photo gallery is located on Flickr here.
One of the major outcomes of the Forum is its final Declaration. This year the declaration extols the responsibility of scientists to communicate science findings to society, as well as strengthening global standards of research integrity. The Declaration is available here.
Science Leadership Workshop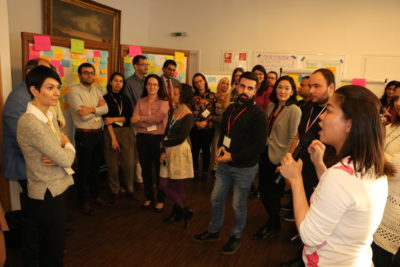 Leading up to the WSF, nearly 40 young scientists and scholars from 23 countries participated in a 1.5 day science leadership workshop, co-organized by the Global Young Academy (GYA), the InterAcademy Partnership (IAP), and the Hungarian Academy of Sciences. The workshop, facilitated by KnowInnovation, practiced the collective leadership model used in the Africa Science Leadership Programme, focusing on creative leadership, problem-solving and communication skills, enabling participants to harness the knowledge of a diverse group, and arrive at complex solutions. More information here.
Launch of "Declaration on the Guiding Principles of Young Academies"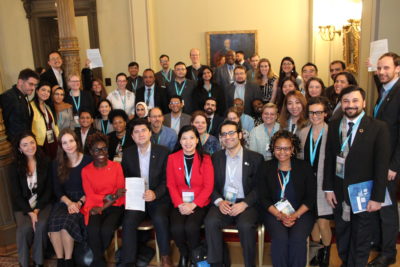 Coordinated by the Global Young Academy, almost 40 young academies from all over the world have come together in recent months and have developed a set of guiding principles, which led to the launch of the Declaration on the Guiding Principles of Young Academies, launched at the WSF on 20 November 2019 with a large number of young academy representatives being present.
On behalf of the recently-established Hungarian Young Academy, GYA member Gergely Toldi (Hungary) opened the launch session and thanked the members of the core writing team. GYA Immediate past Co-Chair Tolu Oni (UK) then discussed the rationale for drafting the declaration and described the drafting process over recent months. She closed by reminding everyone that the Declaration is meant to be a living document. It will continue to evolve over coming years with more young academies being established, and activities by existing young academies developing too. More information, and the Declaration itself, can be found here.