The global network of Young Academies continues to grow, from just a handful in 2014 to currently more than 40 across all global regions. With the increasing numbers, the need for a consensus on core principles and values of young academies became apparent so as to continue building this active community and preserve the values that underpin the movement.
Coordinated by the Global Young Academy, almost 40 young academies from all over the world have come together in recent months and have developed a set of guiding principles.
These include Excellence; Diversity & Inclusivity; Responsibility; Knowledge-based Evidence; Independence & Transparency; and Integrity.
The Declaration includes a number of calls to action, including one to young scholars worldwide to establish a Young Academy in countries where none exists. Other calls are targeted at existing Young Academies to continue aligning their actions with the newly-codified core principles, and to established Science Academies to work with and support their Young Academy counterparts.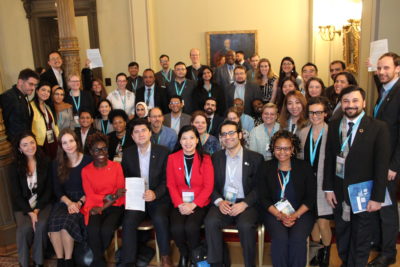 The Declaration was launched at the World Science Forum in Budapest, Hungary, on 20 November 2019 with a large number of young academy representatives being present.
On behalf of the recently-established Hungarian Young Academy, Gergely Toldi (Hungary) opened the launch session and thanked the members of the core writing team.
GYA Immediate past co-chair Tolu Oni (UK) then discussed the rationale for drafting the declaration and described the drafting process over recent months. She closed by reminding everyone that the Declaration is meant to be a living document. It will continue to evolve over coming years with more young academies being established, and activities by existing young academies developing too.
Bringing in the perspective of the senior science academies, Daya Reddy, President of the International Science Council congratulated the young academies for having come together and written this declaration. He expressed delight at the path that the young academy movement had come within the past 20 years. The young academies bring a unique perspective on global challenges to the science academy landscape and a degree of optimism which is needed. He recommended the Declaration to the senior academies inviting them to reflect on their values and principles too.
In his brief statement, Michael Saliba (Germany) from the Junge Akademie Germany went back to 20 years ago when the German Junge Akademie was established. Back then, no one knew what would come off the young academies, but now we can see that the development of young academies is a continuing success story – with more than 40 young academies existing the world over, and many more working towards establishment.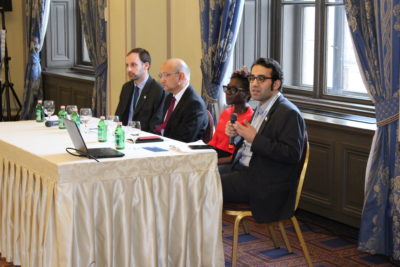 Declaration text: LINK
News Release: LINK
Twitter:   #YoungAcademy    #WWMYA2019
Addendum: The Dutch Young Academy decided not to sign up to the Declaration, but endorses its spirit. See here for their statement.