Leading up to the 2019 World Science Forum on the topic of Science, Ethics and Responsibility in Budapest, Hungary, 43 young scientists and scholars from 23 countries participated in a 1.5 day science leadership workshop, co-organized by the Global Young Academy (GYA), the InterAcademy Partnership (IAP), and the Hungarian Academy of Sciences. The workshop, facilitated by KnowInnovation, practiced the collective leadership model used in the Africa Science Leadership Programme, focusing on creative leadership, problem-solving and communication skills, enabling participants to harness the knowledge of a diverse group, and arrive at complex solutions.
The group identified and addressed urgent issues of ethics and responsibility in science, including: the ethics of science funding, the relationship between science and society, inclusivity – of women in science, and of diverse perspectives through collective leadership – on the ethical conduct of science, and the research environment.
The first day of the workshop finished with a reception for young scientists, co-funded by the German Junge Akademie, the first young academy founded worldwide. GYA Co-Chair Connie Nshemereirwe (Uganda), GYA and Junge Akademie member Michael Saliba (Germany) and IAP president Volker ter Meulen spoke about the growing young academy movement and the importance of strengthening the voice of young scientists around the world.
Workshop output: 'S.O.S. Booklet for Young Global Scholars: Facing the Scientific and Ethical Challenges of the Modern Age'.
Gjoneska, B., Camacho Toro, R., Simic, N., Solymosi, K., AbuDouleh, A., Chies Santos, A., Chaouch, M., Elbaz, H., Enany, S., Giannarou, S., Gono-Bwalya, A., Haidu, D., Manzanares Chacón, M. A., Režek Jambrak, A. (2020). Budapest: GYA/IAP Young Researchers Leadership Workshop in the Framework of the World Science Forum 2019.
Download PDF here: IAP and GYA, SOS Booklet for Global Young Scholars, Gjoneska et al, 2020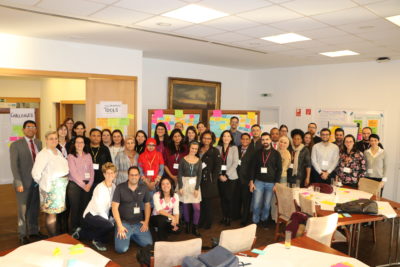 Participants:
Adél Sepsi

Adina Coroaba

Ágnes Máté

Aiah AbuDouleh

Ajeng Arum Sari

Amna Jabbar Siddiqui

Ana Chies Santos

Anet Režek Jambrak

Angela Gono-Bwalya

Barna Páll-Gergely

Biljana Gjoneska

Daniela Haidu

Erika Bálint

Éva Dékány

Felix Bast

Gergely Gábor Barnaföldi

Giovanna Avellis

Gitanjali Yadav

Gitta Schlosser

Hazem Elbaz

Henry Mauricio Chaparro Solano

Jakaria Rahman

Jennifer Plaul

Katalin Solymosi

Laurence Obai

Lidija Tičar Padar

Maral Dadvar

Marcos Antonio Manzanares Chacón

Melek Chaouch

Modiba Matome

Mohammed Seridi

Natasa Simic

Navchtsetseg Nergui

Nonillon Aspe

Orsolya Valkó

Paula Grech Bonnici

Prakoso Bhairawa Putera

Reina Camacho Toro

Richard Nami Muallil

Shadi Ibrahim Alzu'bi

Shymaa Enany

Stamatia Giannarou

Tozama Qwebani-Ogunleye