Research and findings from the GloSYS Africa project were presented at the 33rd African Union Conference, which took place from 4-10 July 2019 in Niamey, Niger. The GloSYS team was represented by two of the five GloSYS Africa project champions, Abdeslam Badre (Germany) and Anna Coussens (Australia), as well as by GYA Co-Chair, Connie Nshemereirwe (Uganda), presenting at a side event to the AU Conference: the 'Innovation4Development' conference.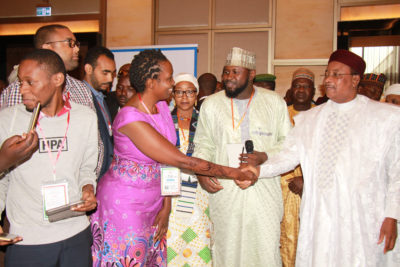 The conference focused on promoting research, start-ups, innovative technologies and collaboration across a range of industries. GYA member Ibrahim Zakari (Niger) was part of the local organising committee for the I4Dev conference. Through the hard-work of Ibrahim and GYA member, Erick Tambo (Germany), the GloSYS Africa team were invited to present their research findings from the large-scale study.
Research findings from the GloSYS Africa study were presented to a group of stakeholders in African higher-education, and a follow-up workshop discussed policy responses to key issues identified by the report. Fridah Erastus (Kenya), Abidemi Akindele (Nigeria) and Mona Khoury-Kassabri (Israel), Hsin-Chou Yang (Taiwan) and his analysis team (Yin-Chun Lin, Mei-Chu Huang, and Chia-Wei Chen), contributed to the development of the research, findings and content presented in the workshop.
The GloSYS Africa project is due to publish its final report in late 2019, and the team looks forward to presenting next at an affiliate session at the 28th World Economic Forum on Africa in September 2019.
Pictures from the GloSYS Africa presentation and workshop at the 'Innovation4Development' side conference: