In September 2018, an IAP / EASAC workshop at the Leopoldina in Halle, Germany, addressed how academies can support the implementation of the UN SDGs. Representatives from 21 EASAC (European Academies' Science Advisory Council) member academies and 4 National Young Academies (NYAs) from Europe participated in the workshop, along with GYA members from the region, and several representatives of the policy-making community. The meeting was the third of four regional meetings to take place this year, intended to inform the IAP project "Improving Scientific Input into Global Policymaking" as well as regional SDG implementation plans.
Workshop participants were introduced to key regional and national implementation processes and to scientists within the region who are playing leadership roles for the UN. There are numerous examples of ways in which academies can support these processes, including the work of the UN Regional Commission for Europe (UNECE) and the European Union Commission's efforts to support the SDGs. A working knowledge of UN policy processes and cycles can improve good timing of academy interventions: for example, the clusters of SDGs reviewed each year by the UN High Level Political Forum (HLPF) can help planning academies' activities.
Conversations during the workshop were framed around five broad themes:
(1) socialising/communicating the SDGs (to academy members, universities and the wider public);
(2) understanding interactions between SDGs (bridging data gaps, understanding complexity), as well as monitoring and review/metrics for SDGs;
(3) integrating the SDGs into research funding structures and priorities; research evaluation and scientific career structures/incentives;
(4) building stronger connections between young and senior academies (multi/cross disciplinarity; SDGs 16 and 17; intergenerational, ethical, legal, constitutional aspects of the SDGs as a possible new joint project); and
(5) European influence globally / IAP role: supporting national, regional and global processes.
Participants developed an action plan, which will be 'socialised' amongst EASAC members and NYAs in the region and reviewed in the final stages of the IAP SGD project and at the IAP Triennial Conference in April 2019.
In his presentation of the GYA and its SDG-related activities, Moritz Riede (UK) referred to the 2017 GYA/NYAs statement on the SDGs, the newly-established GYA Incubator on Citizen Science for the SDGs, and preliminary plans for the Fourth Worldwide Meeting of Young Academies in Vietnam in 2019.
GYA member and IAP for Research Executive Director Teresa Stoepler (US) had a leading role in running and moderating the workshop; in addition, GYA member Robert Lepenies (Germany) was among the workshop participants.
GYA member Monika Kedra (Poland) attended on behalf of the Polish Young Academy; the Young Academy of Sweden was represented by Staffan Lindberg, the Dutch Young Academy by Behnam Taebi, and the Israel Young Academy by Udi Sommer.
See here for further information about SDG-related activities by the GYA and its members and alumni.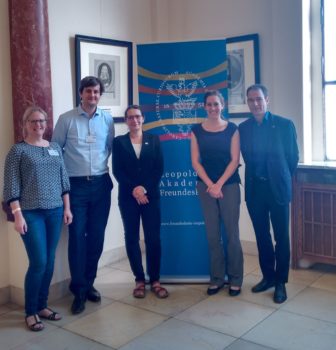 From left to right: GYA Project Officer Anna-Maria Gramatté, GYA members Robert Lepenies, Monika Kedra, Teresa Stoepler, Moritz Riede.