Country of Residence
Malaysia
Discipline(s)
Find out more
Institution
Universiti Sains Malaysia
Institute for Research in Molecular Medicine
Research Interests
Sirtuin, cancer targeted therapy, angiogenesis, novel therapeutics, drug development
Topics to speak on:
Sirtuin, cancer targeted therapy, tumour microenvironment
Words of Wisdom
Believe in your own ideas and go all out! Let your passion take the lead. Learn from the best!
Biography
Associate Professor Dr Oon Chern Ein completed her BSc (1st Class Hons) in Biotechnology at Universiti Kebangsaan Malaysia and furthered her doctorate studies in Medical Oncology at University of Oxford, United Kingdom. She then trained at Karolinska Institutet, Sweden as a postdoctoral fellow and now serves as a lecturer at INFORMM, Universiti Sains Malaysia. Her expertise is on new targeted therapies in cancer with emphasis on tumour angiogenesis. Chern is a fellow of the Association of Union for International Cancer Control and an ambassador of European Association for Cancer Research. She served as an EXCO member of the Young Scientists Network- Academy of Sciences Malaysia from 2017 to 2018. In 2014, she won the Exiqon Young Scientist Award- South East Asia. Chern continues to receive numerous awards including the prestigious L'Oreal-UNESCO for Women in Science National Fellowship in 2015, the Union for International Cancer Control ICRETT Fellowship and MAKNA Cancer Research Award in 2016. In 2018, she was awarded the UK based prestigious Women of the Future Awards- South East Asia and the National Young Scientist Award (Ministry of Science and Technology Malaysia) for forging new grounds in science. She was also recently honoured with Marie Claire Amazing Women Award for being a game changer in her scientific pursue in the discovery of new potential targeted therapy in cancer.
Recognizing the importance of education and its significance in the development of a science-literate society, Chern takes pride in her personal outreach modules targeting the less fortunate- the orphans and the sick, a programme she has been leading since 2014. She strongly advocates for fairness and equality, and hopes to empower women to follow their dreams no matter what life brings.
Awards
The Most Promising Academician Award (Ministry of Education), Year 2019 & National Young Scientist Award (Ministry of Energy, Science, Technology, Environment and Climate Change), Year 2018
Women of the Future Awards (UK) - South East Asia 2018 (Science, Technology and Digital Category), Year 2018
National Cancer Council Cancer Research Award, Year 2016
Union for International Cancer Control- International Transfer of Cancer Research Knowledge and Clinical Technology Fellowship, Year 2016
L'Oreal-UNESCO for Women in Science - National Fellowship, Year 2015
Exiqon Young Scientist Award- South East Asia, Year 2014
Activities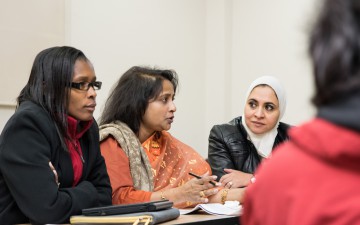 Working Groups