GYA members, scientists and scholars from around the globe were actively involved in the second CILAC Forum (Latin America and Caribbean Open Science Forum), which took place in Panama City, Panama from 22-24 October 2018. CILAC seeks to contribute to the design of a planetary strategy in favor of science's role in sustainable development. Although CILAC was originally a regional event, scientific organizations and researchers from all over the world converge in this Forum. The Forum promotes a dynamic and inclusive space for discussing and planning the role that science, technology and innovation play in the sustainable development of this region and the world.
DIY Biology
Six young scientists, five of whom are members of the GYA (Bart Kolodziejczyk, Alexander Kagansky, John Malone, Clarissa Rios Rojas, Sandra Lopez Verges), some involved in the working group Do-it-yourself Biology, organized a panel session on the "Do-it-yourself biology movement in Latin America as a driving force of innovation and entrepreneurship". More information on this panel here.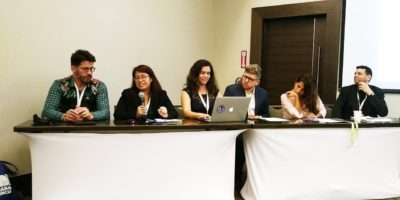 Science and society
Other GYA members were part of different CILAC 2018 panels. Teresa Stoepler, Sandra Lopez  and Alex Godoy-Faundez spoke on the panel on "Mobilizing the global science community to support the UN SDGs." Sandra Lopez was one of the speakers in the panel about "Women in science and the 2030 agenda"  and "Science diplomacy as opportunity for science sustainability in emerging countries". John Malone was also a speaker in this science diplomacy panel. Alexander Kagansky and John Malone were speakers of the panel on "Genetic knowledge for the development of just societies". GYA member Bartlomiej Kolodziejczyk was invited to talk in the panel of "Risk investment, public investment and new business models". A video of his presentation can be viewed here.
GYA member Teresa Stoepler (executive director of the InterAcademy Partnership for Research (IAP-R)) joined the closing ceremony to deliver a young scientists' perspective on the 2030 Sustainable Development Goals (SDGs). Teresa emphasized that to achieve the SDGs, we will require transparent, evidence-based policymaking that includes diverse voices such as those of young scholars and scientists from the arts, humanities, social sciences, life sciences, and other fields from around the world. Recognizing the career pressures young scientists face, she encouraged them to nonetheless contribute to connecting science to their surrounding communities, to achieve the SDGs.
Science diplomacy
Sandra Lopez Verges  also participated in the Science Diplomacy Workshop, a CILAC side-event organized by SENACYT (National Secretariat for Science, Technology and Innovation from Panama), American Association for the Advancement of Science (AAAS), Inter-American Institute for Global Change Research (IAI) and UNESCO. This workshop aimed to promote an exchange of knowledge and experiences about science diplomacy among researchers, policy-makers and other experts from Panama and the Latin American region about different topics related to global changes and their impacts on the SDGs.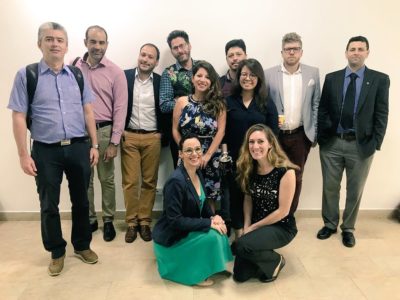 Leadership training for young scholars and scientists
Furthermore, co-organised by the GYA and the InterAcademy Partnership (IAP), a pre-conference Science Leadership workshop for young scientists took place on 20-21 October 2018 in Panama City. Facilitated by KnowInnovation, the workshop focused on building science leadership, communication skills and applications to using science to achieve the SDGs. GYA members Bart Kolodziejczyk, Alexander Kagansky, John Malone, Clarissa Rios Rojas , Daniel Limonta , Alex Godoy-Faundez, Flavia Pires, Sandra Lopez Verges and Teresa Stoepler attended the Science Leadership Workshop and later joined the CILAC Forum. A number of other promising young scientists from the Latin American region and other parts of the world also joined: Khalisah Zulkefli (Malaysia), Leonardo David Amarilla (Argentina), Irene Guendel Sanchez (USA), Jose Castro Nieto (Costa Rica), Silvia Saito (Brasil), Amaury Perez (Dominican Republic), Pablo Bolaños-Villegas (Costa Rica), Nicolás Domke (Chile) and John Fredy Barrera Ramirez (Colombia).  One of the immediate outcomes of the Forum is a building momentum to create a regional-level or several national-level young academies.