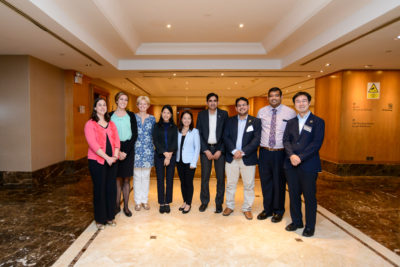 From 13-14 August, an IAP / AASSA workshop addressed how academies can support implementation of the UN Sustainable Development Goals (SDG). Representatives from 14 of the 30 AASSA (Association of Academies and Societies of Sciences in Asia) member national academies and six regional Young Academies participated, along with the International Science Council (formerly ICSU) Regional Office for Asia-Pacific (ROAP), Global Young Academy members from the region, and several representatives of the policy-making community. The meeting was the second of four regional meetings to take place this year, intended to inform the IAP project "Improving Scientific Input into Global Policymaking" as well as regional implementation plans.
IAP for Research Executive Director and GYA member Teresa Stoepler introduced the objectives of the workshop, which focused on better understanding the SDGs, exchanging experiences, identifying priority knowledge gaps (science-for-policy or policy-for-science) and developing a voluntary regional action plan for AASSA members and National Young Academies (NYAs) to work together to support SDG implementation.
In addition, GYA members Aftab Ahmad, Aysha Fleming, Mahesh Kumar, Soracha Thamphiwatana and Abhi Veerakumarasivam, and GYA alumna Orakanoke Phanraksa – many of whom are also associated with their NYA – participated in the workshop. Overall, there was a genuine desire to strengthen working links between AASSA members and the growing number of National Young Academies in the region.
The GYA as a global young academy is active in supporting SDG implementation in various ways. An overview of related activities and cooperation can be viewed here.