Progress
For GYA members and alumni only: connect to the group, collaborate and discuss with other members on the GYA-internal Agora platform here.
– We are preparing a data analysis of GYA membership based on archival information.
– We are conducting a historical study of the GYA and compare its founding with founding stories of different academies.
– We are capturing the memories and experiences of recent alumni in a video archive.
– We are working on playful ways to activate and engage with the history of the GYA.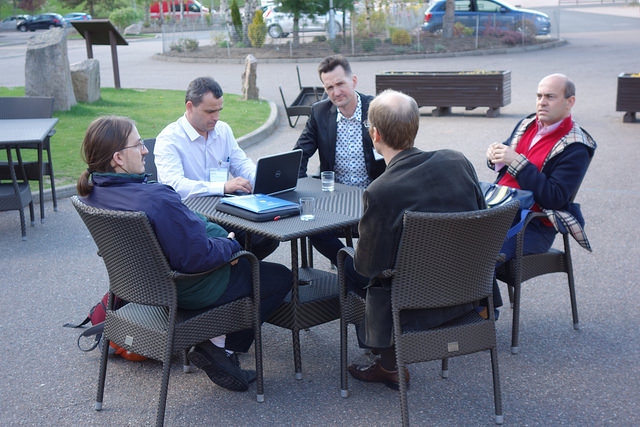 The History of the GYA Working Group brainstorming during the 2017 AGM in Aviemore (© Shoji Komai 2017)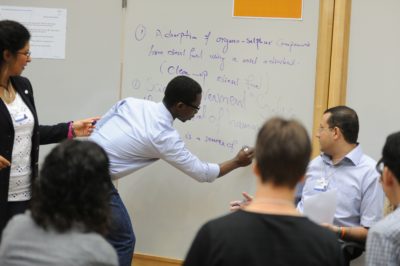 Future GYA Founding Members at the 2009 "Summer Davos", Dalian, China
Outcomes
2019
In connection with the GYA Annual General Meeting and International Conference of Young Scientists in May 2019, the group organized a science history walk through the city of Halle, Germany, as part of the March for Science day.
Also at the meeting, the group contributed to a panel on the "History and Future of Academies and Learned Societies". The panel included a keynote by Ismail Serageldin (Founder, Bibliotheca Alexandrina), followed by a panel discussion particularly focusing on the history of academies in Europe. The history of the GYA was discussed in the context of the growing movement of national young academies. Part two of the panel, on the future of national and global academies, was an active panel discussion with Jacqueline Olang (Network of African Science Academies), Volker ter Meulen (InterAcademy Partnership), Philipp Kanske (die Junge Akademie), Antonio Loprieno (All European Academies), Orakanoke Phanraksa (National Science and Technology Development Agency, Thailand), Christiane Diehl (European Academies' Science Advisory Council), moderated by GYA Co-Chair Tolu Oni.
2018
Working together with the GYA Office, we started the development of an archiving policy and the basis for a professional archive.