Progress
The Global Young Academy, in collaboration with Oxford-based organisation INASP, carried out a preliminary survey to assess the quantity and quality of access to proprietary and open source software among researchers from all disciplines based across the globe. Survey data were collected between July and December 2015, data analysis took place from January to December 2016 and report review, data analysis review and final editing happened from January 2017 to August 2017. Emphasis was placed on gathering data from researchers based in Bangladesh, Ghana and Nigeria, whose access and use of research software had not yet been extensively documented. Through the help of GYA volunteers, we were able to arrange extensive data collection and get unprecedented access to data about research software use and attitudes towards open software. These results should be used as the foundation for more detailed research in different countries and they can serve as a preliminary guide for new private initiatives and policy decisions in regard to improving access to software for scientists all over the world.
Outcomes
Preliminary findings from this research include the following:
Researchers in developing countries overwhelmingly rely on proprietary software
The desired research software is highly field-specific and diverse
Lack of access to software significantly affects research content and networks
There is a significant gap in the uptake and even awareness of Free and Open Source Software (FOSS) alternatives between developing and developed countries
There is an interest in adopting and developing FOSS, but before this interest can take fruit, there is a strong need for increased awareness, knowledge, training and support with regard to FOSS
The report "Global Access to Research Software: The Forgotten Pillar of Open Science Implementation" was published in March 2018.
You can watch a video of the report launch here.
The News Release for the GARS report launch is available here.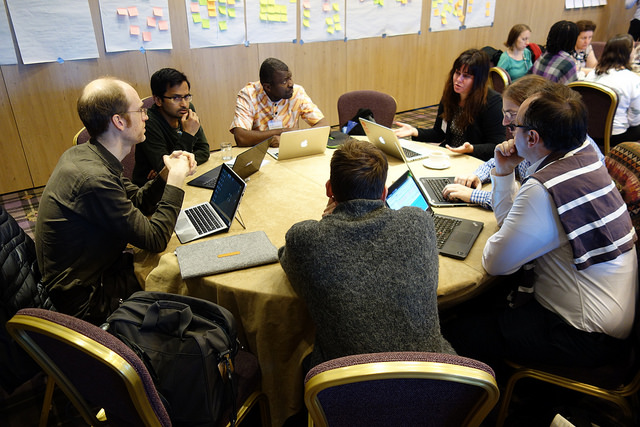 The current GARS Working Group at work during the 2017 AGM in Aviemore (© Shoji Komai 2017)