The GYA's mission is to give a voice to young scientists worldwide. We are therefore very happy – together with all young academies the world over – to welcome the 50th young academy: the UK Young Academy was launched in June 2022. (See a current list of young academies on this map.)
The UK Young Academy has been established by a group of seven UK academies: the Academy of Medical Sciences, British Academy, Learned Society of Wales, Royal Academy of Engineering, Royal Irish Academy, Royal Society of Edinburgh, and the Royal Society, who are currently also hosting the young academy secretariat.
The UK Young Academy aspires to connect emerging leaders with different knowledge and expertise, and to include their voices in local and global policy discussions. In addition to working with its seven "parent" academies, the UK Young Academy plans to work closely with the Young Academy of Scotland, which has been active since 2011.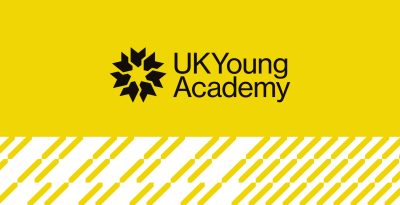 The UK Young Academy was borne out of the consideration that there is no single UK-wide organisation through which the young researchers community can independently engage with UK-based and international colleagues to apply their knowledge and contribute thoughts and ideas. This became even more relevant during the COVID-19 pandemic, which highlighted the need for international collaboration.
The UK Young Academy was set up in line with the Guiding Principles of Young Academies (2019), which were co-authored by many GYA members, including Gergely Toldi (University of Auckland, New Zealand), who then, together with past Co-Chair Moritz Riede (University of Oxford, UK) and Senior Project Officer Anna-Maria Gramatté, helped establish the UK Young Academy.
In line with most young academies, the UK Young Academy's mission is to provide a voice for early-career researchers and innovators across the UK on issues that matter to them. It also wants to give a cross-disciplinary forum that can contribute to the development of UK research and wider sectoral culture and address UK societal challenges. It will bring together researchers, innovators, clinicians, professionals, academics and entrepreneurs to tap into their collective potential and expertise to tackle important issues in society.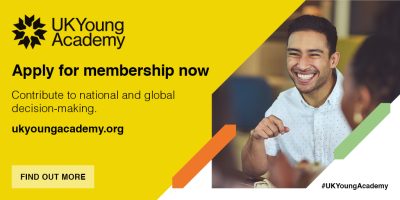 To learn more about the UK Young Academy, visit their website or subscribe to their social media channels (Twitter, LinkedIn, Instagram, Facebook).
Their call for their first cohort of young academy members is also currently open. The Academy is looking for enthusiastic, driven and talented emerging leaders based in the UK. Details of the selection criteria can also be found on the academys' website.
For further inspiration, you can read the short case studies presented on the academy's website. There, you can find GYA alumnus Gergely as well as former co-chair Roula Ingelsi-Lotz (University of Pretoria, South Africa) describing their experiences in young academies.
The UK Young Academy will hold two webinars for potential applicants to find out more about what a Young Academy is and how the application process works (click here for dates and further detail).
Application deadline for the UK Young Academy's first member cohort is 8 September 2022.