The 2022 Annual General Meeting and International Conference of Young Scientists took place online for the third consecutive year in 2022, meaning that since 2019, incoming GYA members have not had the chance to meet in person.
To support in-person networking, the GYA offered co-funding for member-organized networking meetings. The first of these meetings took place in parallel to the AGM at the Future Africa Campus at the University of Pretoria in South Africa.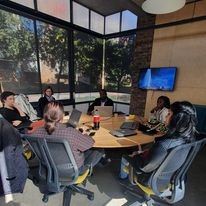 GYA members from Southern Africa in attendance included Co-Chair Priscilla Kolibia Mante (Kwame Nkrumah University of Science and Technology, Ghana), immediate past Co-Chair Roula Inglesi-Lotz (University of Pretoria, South Africa), Executive Committee member Michael Backes (University of Namibia), Adeyemi Aremu (North-West University, South Africa), Devina Lobine (University of Mauritius) and Mareli Claassens (University of Namibia).
Using the technology available at the Future Africa Campus to attend the AGM online together, these attendees also discussed possible joint proposals and projects. The group placed special focus on how to strengthen GYA member representation in southern Africa (beyond the meeting participants' countries of residence), and made plans to establish an inclusivity incubator, with the aim of equal geographical representation of early-career researchers in the GYA.
The meeting participants, three of whom had never attended an in-person AGM before, also met with previous and current members in the region, including former Co-Chairs Connie Nshemereirwe (Actualise Africa, Uganda), Eva Alisic (University of Melbourne, Australia), and Bernard Slippers (University of Pretoria, South Africa).
Such meetings are organized to allow for networking and exchange of ideas without the need for long-distance travel and proof of vaccination.