GYA member Michael Saliba (Switzerland, pictured at right) became a member of the German Junge Akademie at their annual membership inauguration and get-together in Berlin, Germany, on 30 June 2018.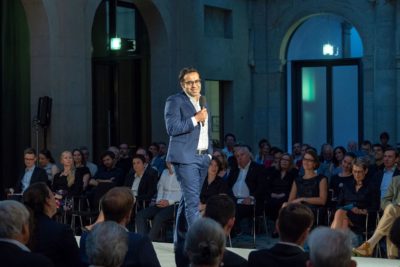 Short 2-minute presentations by the new members this year focused on "Geistesblitze" (flashes of inspiration).
The Junge Akademie also elected their new Board for the 2018/19 period with Christoph Lundgreen (TU Dresden) as the speaker for the next 12 months. Further Board members are Philipp Kanske (TU Dresden), Kristina Musholt (Leipzig University), Jonas Peters (University of Copenhagen, Denmark) and Bernadett Weinzierl (University of Vienna, Austria).
The Junge Akademie also recently nominated their former Board Member Miriam Akkermann to be their liaison in the Local Organising Committee for the 2019 GYA Annual General Meeting in Halle (Saale), Germany.