1 November 2022 - 3 November 2022 All Day
Biosphere 2, Oracle Arizona
The Worldwide Meeting of Young Academies 2022 was for the first time ever organised in collaboration with the InterAcademy Partnership, to strengthen connections and collaborations between the young and the established science academies the world over. The meeting was hosted by the U.S. National Academy of Sciences (NAS) and the Royal Society of Canada (RSC) and co-organized by IAP, the Global Young Academy (GYA), NAS, RSC, the RSC College, and the NAS New Voices Program. It was a hybrid meeting,...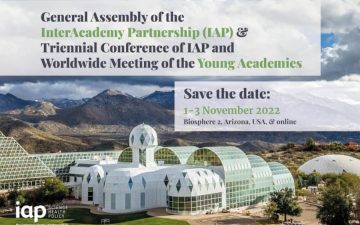 30 September 2021 1:30 pm - 3:00 pm
More than 50 (National) Young Academies and young academy initiatives from all over the world were invited to attend the second online meeting of young academies on 30 September 2021, organised by the GYA. In 2020, the first-ever worldwide meeting of young academies saw fruitful discussions about young academy activities and the challenges they face. Best practices for member selection and engagement, as well as for how to do science advice or set up a new young academy were also exchanged. The 2021 online...