The 3rd Worldwide Meeting of Young Academies took place in Johannesburg, South Africa, from 19-21 July 2017, hosted by the South African Young Academy of Science (SAYAS) and co-organised by the Global Young Academy (GYA).
The meeting was a great opportunity for representatives from NYAs and similar bodies to exchange ideas and expertise, discuss successful Young Academy activities and think about future networking and cooperation both on a global and regional levels. Regional outbreak sessions on specific issues also formed part of the meeting.
Since the 1st Worldwide Meeting in Amsterdam in 2012 and the 2nd Meeting in Stockholm in 2015, the international movement of Young Academies (YAs) has grown extensively with many new YAs established. See the map on the GYA website here.
Moreover, SAYAS in partnership with the Department of Science and Technology (DST), the Academy of Science of South Africa (ASSAf), the World Academy of Sciences Regional Office of sub-Saharan Africa (TWAS-ROSSA), the Organisation for Women in Science for the Developing World -South Africa Chapter (OWSD-SANC), and the National Research Foundation (NRF) also hosted their annual Young Scientists Conference on "Young Scientists' Role in Science Advice" on 19 July as part of the Worldwide Meeting.
A statement on "The role of young academies in achieving the UN SDGs" resulted from the meeting and can be found here.
GYA News Release: Statement (26 October 2017)
A meeting report has been compiled and can be accessed here.
For more information on the meeting and outcomes, see the Meeting Programme, the pre-meeting GYA News Release (19 July 2017), or SAYAS' Event Website.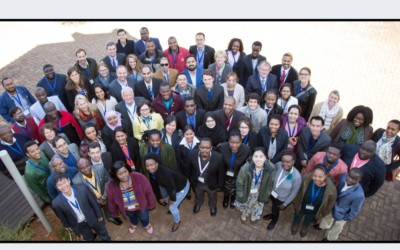 Contact
For any queries regarding the 3rd Worldwide Meeting of Young Academies 2017, please contact:
Anna-Maria Gramatté at the GYA Office:
Edith Shikumo at the SAYAS Secretariat:
Partners / Funders
The events were supported by the following organisations:
Department of Science and Technology (DST), South Africa
Academy of Science of South Africa (ASSAf)
National Research Foundation (NRF), South Africa
World Academy of Sciences Regional Office of sub-Saharan Africa (TWAS-ROSSA)
Organisation for Women in Science for the Developing World, South Africa Chapter (OWSD-SANC)
InterAcademy Partnership
IAP for Health
German Federal Ministry of Education & Research
Volkswagen Foundation
South African Medical Research Council (SAMRC)
International Council for Science, Regional Office for Africa (ICSU-ROA)
New Zealand High Commission, South Africa