Country of Residence
Brazil
Discipline(s)
Science-policy interface and Sustainability
Earth and Environmental sciences
Biology
Find out more
Institution
State University of Campinas (UNICAMP)
Research Group for Energy & Sustainability of the School of Mechanical Engineering
200 Mendeleyev Street
13083-860 Campinas
Brazil
Research Interests
Science-policy interface, science diplomacy, multilateral environmental agreements, sustainable mobility, energy planning, biodiversity and ecosystem services.
Biography
Camila Ortolan is a researcher and PhD candidate at State University of Campinas (UNICAMP), in the Department of Energy, Research Group of Environmental Science, Policy & Management. Camila is an interdisciplinary natural scientist, with training in biology, energy planning and sustainability. She is currently co-chair of the Brazilian Network of Ecosystem Services Partnership (ESP), member of the Brazilian Platform on Biodiversity and Ecosystem Services, and vice-president of the Sustainability Working Group of the Brazilian Institute of Development of International Business Relations (IBREI).
Camila is a biologist and holds a master degree in energy planning (UNICAMP University/Brazil and Utrecht University/Netherlands), has a specialization in business administration (FGV/Brazil), strategy (La Verne University/United States) and biotechnology (Helmholtz-Zentrum für Infektionsforschung/Germany). Camila was employed by GIZ, CPFL Energy, the Brazilian Bioethanol Science and Technology Laboratory, and the Ecofys Group and was a consultant to GFA Consulting Group, UN Environment and FSC International. She was also a postgraduate intern at UN-IPBES and FSC International.Apart from her PhD and other research groups, she is an independent consultant advising governments on electric mobility and sustainable development issues. Additionally, she writes, edits and reviews reports and papers for international organizations, such as the United Nations.
Awards
Top Ethanol Award for dissertation (2014)
Activities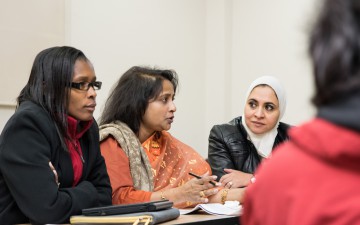 Working Groups