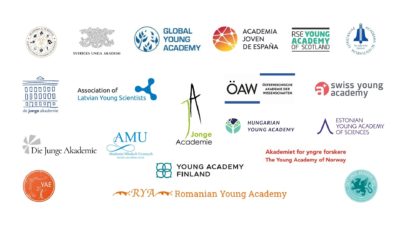 Young Academies from all over Europe met in Brussels, Belgium, on 10-12 May 2022. The meeting, organised and hosted by the Belgian Young Academy, brought together representatives from 21 young academies and academy initiatives; some representatives joined online.
The GYA was represented by former Executive Committee member Maral Dadvar (TU Darmstadt, Germany), Science Advice working group co-lead Markus Prutsch (European Parliament, Belgium), and Senior Project Officer Anna-Maria Gramatté. GYA member Éva Dékány attended for the Hungarian Young Academy, and former Co-Chair Moritz Riede (University of Oxford, UK) attended on behalf of the UK-wide Young Academy initiative. GYA members Goran Bandov (University of Zagreb, Croatia) and Anet Režek Jambrak (University of Zagreb, Croatia) joined on behalf of the Croatian Young Academy initiative.
Participants heard updates on YASAS, the Young Academies Science Advice Structure; discussed current activities for researchers at-risk, and shared best practices from their various young academies:
'Gender fairness in Academia: poster campaign and all universities' charter', by the Belgian Young Academy
'Creating outreach, the example of the children's book Forskardrommar', by the Young Academy of Sweden
'Expedition Mundus, a game that introduces science to children', by the Belgian Young Academy
'How to set up Young Academy Initiatives', by former GYA Co-Chair Moritz Riede
'The OVERLAP between science and art', by the Belgian Young Academy
'Research Assessment, Recognition and Reward', by the Dutch Young Academy
On day 2, round table discussions with stakeholders from outside of the usual science and science policy bubble took place and led to learnings from other social actors and examine possibilities of cross-pollination on politics and policy in relation to science and arts, on economic incentives, technology, and entrepreneurship on science and arts; on sustainability and climate change; on interdisciplinarity and financialisation in science and arts; and on communication in science and arts.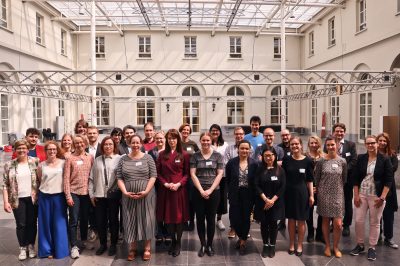 For the first time ever, this meeting was held in conjunction with the ALLEA General Assembly and Public Symposium on "Transforming Science", which provided fantastic opportunities for joint discussions and planning of future joint activities. ALLEA member academies heard about the vibrant landscape of young academies in Europe, and the sea change that had happened over the past 1o-odd years became clear: back then, it was almost a surprise if an established science academy had a Young Academy, whereas today, it is almost a surprise if a country does not have a Young Academy or is at least working on establishing one.
Meeting participants looked at the results of a survey conducted among the European young academies before the meeting, which showed that there is a lot of diversity among the European YAs (e.g., in the approach to the member selection) and a lot of willingness to learn from each other through sharing best practices. The survey, among other things, clearly showed that even in Europe, most young academies do not have any staff support, and very few of those who do have more than half a person.
At the 2022 ENYA meeting, the new Brussels Charter for Young Academy member exchange was adopted and signed by 11 European YAs: the Young Academy of Austria, Estonia, Lithuania, the Netherlands, Scotland, Hungary, Sweden, Poland, Romania, Finland and Belgium (Flanders). The German Young Academy ratified it afterwards. The charter allows national YA members, in the framework of an institutionalized professional stay abroad, to participate in the workings of the young academy in the country of their stay.