After transferring to a new school because of my father's work, my academic standing was not comparable to my previous school. But it was OK – I didn't think much at that time, besides just going with the flow, enjoying my day-to-day life as a kid. Eventually I adjusted and made it back to the the top class.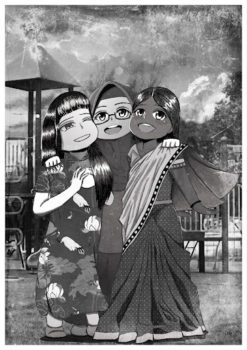 To be honest, it was kind of awkward to make new friends in the new top class and I lost confidence. The class was full of students with very high-end family backgrounds, born with silver spoons in their mouths. The kids who, you know, attended piano and swimming classes after school, who went to Tokyo, Zurich, the United States, etc., during school holidays, carrying expensive and imported school bags and food containers… Some of them had their own personal security guard in their house and many also had their personal family's driver. I suffered a culture shock, coming from an average Malaysian family. At first, I didn't dare to approach my classmates – they were like from a totally different world.
Until one day, I cannot remember how… but suddenly, I became so close to them. We practiced dancing together for school performances; we cheered on our classmates together in swimming competitions; I went to their houses for birthday parties and festive celebrations, and they came to mine too. One memory which I cannot forget was when I spent time with one of them after school, she told me how she was envious of me getting the top-10 rank when she was only at the top-30. She said many good words to me, and I could really sense her sincerity from our 1-to-1 conversation. For the very first time, I saw the other side of her, which I never expected before from a girl who has everything in her life anyone could wish for… They also told me they were envious that my mom (as a full-time housewife) prepared food for me to bring to school everyday when they were only given cash to buy from the school canteen.
These experiences shifted my view about life. Things do not always go our way; we cannot always get what we wish for in life. But how we make use of whatever we have, bring the positivity out of it, never look at how much we are lacking but how much we can contribute and make a difference – this is what matters most. I also learnt that you should never judge people until you get to know them well. Be the one who is approaching and at the same time, approachable. Be humble. Be kind. Be optimistic. You never know the actual traits of a person before you get to know them well. Rather than speculating, better to experience it. Each of us have our own struggles in life; we fight our own battle, we need to overcome our own challenges. As long as the ultimate aim is to benefit others and make a positive difference in the world we are living in, we all are basically ONE.