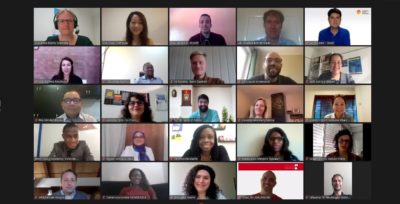 The first-ever online meeting of Young Academies from around the world took place on 22 September 2020. The meeting was the largest gathering of young academies so far, with almost 70 representatives from over 40 young academies and initiatives (see here for a current list of young academies).
The GYA was represented by EC members Yoko Shimpuku (Hiroshima University, Japan) and Lahcen El Youssfi (Moulay Slimane University, Morocco), as well as GYA Managing Director Beate Wagner and Project Officer Anna-Maria Gramatté. Several more GYA members participated wearing their respective young academy hats.
After fruitful discussions about young academy activities and the challenges these organisations face during in-person Worldwide Meetings of Young Academies in 2012, 2015, 2017 and 2019, the 2020 online meeting aimed at providing a similar space online. The meeting was organised and facilitated by the GYA, and all Young Academies were invited to contribute to the meeting agenda beforehand.
Although only a few hours long, due to the online setting, the meeting offered a great opportunity for young academy representatives to exchange experiences as well as to discuss successful young academy activities and common challenges.
Leila Niamir (Mercator Research Institute on Global Commons and Climate Change, Germany), co-lead of the GYA working group on Scientific Excellence, gave a short introduction on the San Francisco Declaration on Research Assessment (DORA), and its potential relevance for young academies. DORA gives recommendations to various stakeholders to change their assessment principles for the quality and impact of scientific outputs. Young Academies have an important role to play in outlining future policies for research assessment; they can also apply the DORA principles themselves when selecting their members, as the selection of excellent young scientists requires a clear sense of standards of research quality and a robust system of research assessment. The GYA and a number of other young academies have already signed DORA recently, and further young academies could do so too to signal their clear commitment to such principles.
Furthermore, participants heard a brief introduction to the InterAcademy Partnership project on Combatting Predatory Academic Journals and Conferences, as well as a short report from last year's survey of young academies, which had looked at structures and processes, funding, communication and international collaboration by young academies.
Discussions on young academies' challenges and opportunities for collaboration then focused on the issue of member diversity. Participants agreed that a need for further exchange of best practices and joint activities exists here, and young academies will continue working on this in coming months.
The latest additions to the young academies network – the Swiss Young Academy and the Nepal Young Scientists Forum – were also represented at the meeting. Representatives from the young academy initiatives from Argentina, Congo, Côte d'Ivoire, Mauritius and the UK also attended to learn about existing young academy models and structures, areas of young academy engagement and possible cooperation.
The fact that such a large number of young academies came together for this meeting was seen to reflect two things: namely the continuously growing number of young academies the world over, as well as the advantages of online meetings (no visa or travel restrictions, no funding issues, less time and scheduling conflicts), which should be seen next to the disadvantages (no personal interaction, no informal ideas-generation).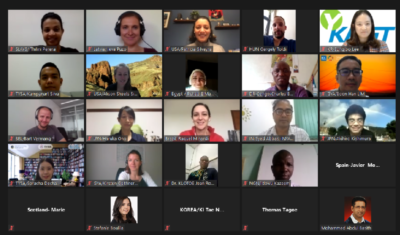 For any queries regarding the worldwide network of young academies, please contact Anna-Maria Gramatté at the GYA Office.