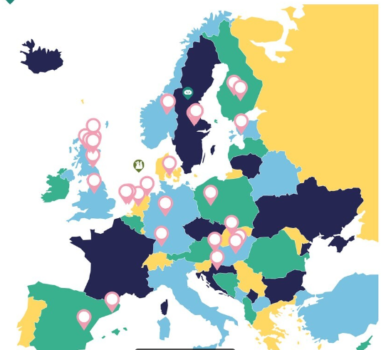 Young Academies from all over Europe met virtually on 7-8 May 2021. The meeting, organised and hosted by the Young Academy of Scotland, brought together representatives from 15 young academies and academy initiatives. The GYA was represented by Executive Committee member Maral Dadvar (Stuttgart Media University, Germany); several more GYA members participated wearing their respective young academy hats: members Gergely Toldi for the Hungarian Young Academy, and Anet Režek Jambrek for the Croatian initiative, as well as alumni Javier García Martínez for the Young Academy of Spain, and Moritz Riede for the UK-wide Young Academy initiative.
Participants continued discussions from last year's meeting, and looked into young academies' best practices, and discussed the role of young academies and early-career researchers in science-based policy advice.
The meeting also saw presentations by and interactions with high-profile speakers from Scotland's research-policy interface, for example, Dame Anne Glover, Chair of the Royal Society of Edinburgh's Post-COVID commission, and former Chief ​​​​​​​Scientific Advisor to the European Commission, who spoke on the role of National Young Academies in global post-COVID resilience and recovery.
Other sessions included discussions on how best to strengthen relationships among the network, and a presentation by the Young Academies Science Advice Structure (YASAS). This had been set up in December 2020 after several months of work by members of the European Young Academies. YASAS interacts with SAPEA (Science Advice for Policy by European Academies), to provide a mechanism for early- and mid-career scientists across Europe to feed into international policy-making, by contributing independent scientific advice to European Commissioners to support their decision-making. During the meeting, participants discussed how YASAS was functioning, what it would bring to young academies and how additional young academies from Europe could join the network. YASAS is open to all national and transnational young academies in Europe, and non-member academies were invited to join the network now in time for the YASAS General Assembly meeting on 11 June.
The European Young Academies will meet again – hopefully in person – in Brussels, Belgium, in 2022, when the Young Academy Belgium will host the meeting.