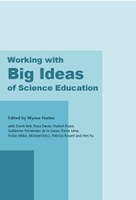 The InterAcademy Partnership (IAP) has published a report titled "Working with Big Ideas of Science Education" on 16 March 2015.
The report addresses concerns that the science curriculum in many countries is overloaded and over-detailed, frequently accompanied by assessment that requires memorizing multiple facts, and a deterrent to the widely advocated inquiry-based approach to teaching and learning. Authored by Wynne Harlen, it provides a reasoned response to this situation by expressing the goals of science education in terms of a relatively small number of powerful ideas – called 'big ideas'.
This publication is the work of an international expert group of scientists, engineers and science educators and follows an earlier publication by the same group, namely "Principles and Big Ideas of Science Education" (2010). For more information, please see the IAP Press Release.
The full report is available for download here.