Country of Residence
Mauritius
Discipline(s)
Applied Biochemistry/ Cancer Chemoprevention
Medicine and health, Biology
Find out more
Institution
University of Mauritius
Department of Health Sciences and Centre for Biomedical and Biomaterials Research
Biography
Dr Vidushi Neergheen-Bhujun is an Associate Professor since April 2019 in the Department of Health Sciences and ANDI Centre for Biomedical and Biomaterials Research at the Faculty of Science of the University of Mauritius.  She graduated with a PhD in Biosciences in 2008. Vidushi has research interest centered on the cancer chemopreventive effects of bioactive extracts derived from food and medicinal plants indigenous to Mauritius. This emerging field of cancer prevention, through natural agents, is a preemptive approach to eliminate cells that may become cancerous, an appealing strategy for stemming the tide against cancer.   Vidushi is determined at finding locally optimised solutions for the prevention and management of cancer, an intensifying problem on the African continent, including Mauritius.
Her research interfaces with medicine, molecular biology and biochemistry and has culminated in more than 60 impactful communications.
Vidushi has constantly endeavoured to integrate her scientific knowledge and apply her research insights for human benefit. In this context, she has served for several years on the Board of Directors of the Junior Chamber International Mauritius, an international non-governmental organisation (NGO) and Women in Networking (WIN) Ltd.
Moreover, to uphold her belief and engagement in scientific networking and knowledge sharing, she has been an active member of the Global Young Academy from 2012 to 2017, is a Next Einstein Forum fellow and is a fellow of the African Science Leadership Program. In 2014, she was honoured by the World Economic Forum as one of the Global Young Scientists 2014/2015, a group of scientists with a proven track record of advancing the frontiers of science in areas of high societal impact.In 2017, she received the Best African WomanResearcher Awardfrom Merck Africa for her outstanding contribution tocancer research.
Activities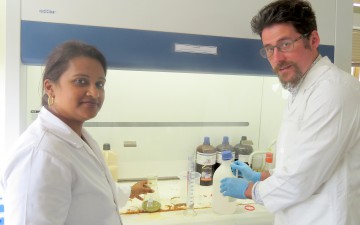 Sasha Kagansky Interdisciplinary Grant