The Global Young Academy has just completed its Annual General Meeting, which this year was held in Canada. Members elected their new leadership and for the first time, the election brought to the head of the academy two female Co-Chairs. Dr. Orakanoke Phanraksa from Thailand was elected for the first time, alongside the re-elected Co-Chair Dr. Eva Alisic (Australia).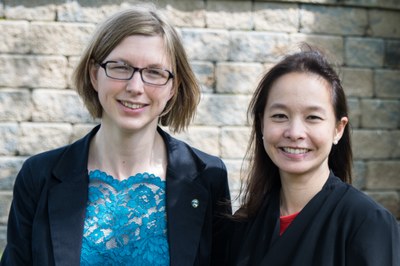 The GYA is an international academy of science – embracing all disciplines from humanities to natural sciences – with 200 members from over 50 countries. The membership comprises leading early career scholars from around the globe, all dedicated to using their research to benefit society. The Academy's meeting in Canada focused on innovation for sustainable globalization. It featured a panel of change makers in the Citizen Science and the DIY movement, as well as addresses from His Excellency the Right Honourable David Johnston, Governor General of Canada, and Gordon McBean, the President of the International Council for Science (ICSU).
"Although we are still a young organization, the international profile of the GYA is rapidly increasing. We want to make a true contribution to science and society", said re-elected Co-Chair Dr. Alisic. "Dr. Phanraksa is the right person to help lead the organization through this phase of both consolidation and expansion. She not only brings her Asian perspective, which is crucial in our global organization, but also her extensive experience in bridging the worlds of science and policy." Dr. Phanraksa pursued her legal profession at the Master and Doctoral levels with a focus on intellectual property law and technology transfer policy at the University of Washington School of Law, USA. After returning to Thailand, she has played a significant role in promoting capacity building for technology transfer professionals at national and regional levels. After a successful establishment of the Thailand Chapter of the Licensing Executive Society, she has partnered with key funding agencies and RDIs in Thailand to form the National Technology Management Association, adapted from the US model commonly known as the Association of University Technology Managers (AUTM), in Thailand. She believes that these technology transfer professionals are the key to linking good science to community.
"The GYA is unique in such a way that you cannot find elsewhere," Dr. Phanraksa says.  She sees the GYA as a platform of talented young scientists getting together to create great impact to society. While some members focus on promoting equal opportunity for science education, others opt for a research based project that could lead to policy recommendation at national, regional, and international levels like the Global State of Young Scientists (GloSYS) study. After its past five years of experiences, she anticipates greater impacts driven by this pool of talents in the coming years.
Further elected into the Executive Committee of the GYA were:
Abidemi Akindele (Nigeria), Anna Coussens (South Africa), Fridah Erastus (Kenya), Ghada Bassioni (Egypt), Mari-Vaughn Johnson (USA) Moritz Riede (UK), Rob Jenkins (UK), Wilfred van der Wiel (NL), Yusuf Baran (Turkey)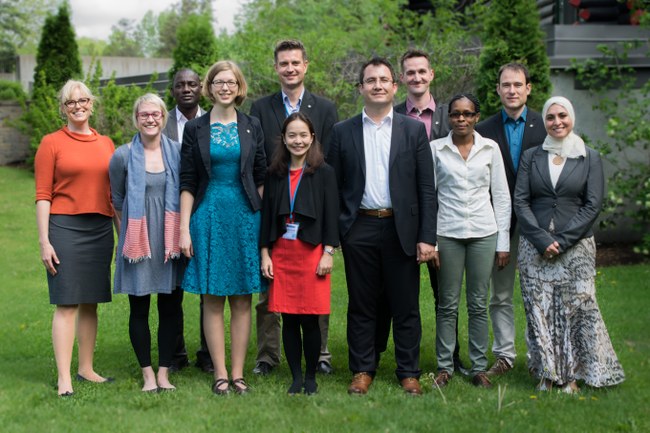 GYA Executive Committee 2015. Photo: Florian Wiencek / GYA
For more information:
Eva Alisic, GYA Co-Chair (Australia);
Orakanoke Phanraksa, GYA Co-Chair (Thailand);
Heidi Wedel, GYA Managing Director (Germany); , Tel: +49 30 20370-631