The project Strengthening African Academies commenced in July 2015 with a runtime of 3 years. The project's aim is to foster the dialogue between science, policy and society. The GYA's role in this project is to facilitate the participation and voice of African young scientists in the dialog. The foundation for the project as a major cooperation between Leopoldina, the Network of African Science Academies (NASAC), the Academy of Science of South Africa (ASSAf), the Ghana Academy of Arts and Sciences (GAAS), and the Global Young Academy (GYA) was laid at the AMASA-11 in Kenya, in November 2015 when the five partner organisations joined together and set down a framework and the goals of four communication events to be held throughout 2016.
Through 2016, four topics defined the communication events within the project: biotechnology and agriculture, climate change, health, and water security.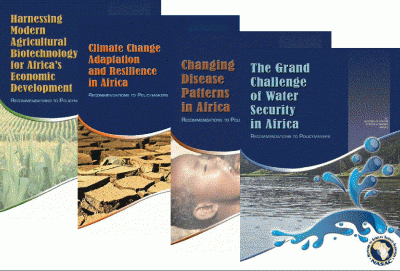 The first communication event entitled "Harnessing Modern Agricultural Biotechnology for Africa's Economic Development" took place in Addis Ababa, Ethiopia, from 21 to 22 April 2016. It was organised by the Network of African Science Academies (NASAC) and featured a review of the booklet "Climate Change Adaptions and Resilience in Africa", a publication that communicates scientific data on facts and resilience regarding climate change in Africa to policy makers and local stakeholders.
Godfrey Omulo, Masters in Agricultural Engineering (Makerere University, Uganda) took part in the event as science representative elected by the GYA. The expert on sustainable agricultural technology in Africa emphasised the importance of modern technology for sustainable development and highlighted science diplomacy as an important factor for sustainable development. Godrey presented the commentary on the booklet by Ahmed Gad (Egypt), Godfrey Omulo (Uganda), and Nicholas Munu (Uganda).
After the NASAC communication event in Ethiopia in April where the climate change policy booklet was presented and discussed, the launch event for the publication took place in Mauritius from 4 to 5 July 2016. GYA member Shaheen Motala-Timol, chemist from Mauritius, integrated the perspective of young researchers into the debate.
The launch of the health communication policy booklet "Changing Disease Patterns in Africa", took place on 5 October 2016 in Accra, Ghana and featured a presentation by GYA member and nutrition expert Dr. 'Femi Morakinyo.
Finally, the fourth communication event took place during the 12th AMASA meeting 6 to 9 November 2016 in Gauteng, South Africa. It featured commentary by Dr. Christopher Oluwakunmi Akinbile on the booklet "The Grand Challenge of Water Security in Africa".
The outcomes of the events can now be found on a microsite at https://saa.project.globalyoungacademy.net. It features event reports, the four policy makers' booklets and commentaries by contributing African scientists.
The project will continue in 2018 with the upcoming conference entitled "SUSTAINABLE AFRICAN CITIES: Towards securing greater efficiency, effectiveness and more livable habits" to be held 4-6 July 2018 and hosted by the Ghana Academy of Arts and Sciences in Accra, Ghana.