Two GYA members spoke at the third IAP Science for Poverty Eradication Committee (SPEC) Conference, which took place from 27-29 March 2019, in in Rio de Janeiro, Brazil. The conference addressed the topic 'How Can Science and Technology Contribute to the Reduction of Poverty and Inequality', and was supported by he Brazilian Development Bank (BNDES), the Coordination for the Improvement of Higher Education Personnel (CAPES), and the Museum of Tomorrow, the Brazilian Academy of Sciences.
The conference aimed to discuss eradicating poverty in all its forms and reducing inequality within and between countries. In order to translate SDG 1 (No Poverty) and SDG 10 (Reduced Inequalities) into action, a comprehensive understanding of the inherent complexities and intrinsic connections between the SDGs is needed.
See detailed conference agenda here.
Nova Ahmed (GYA member, Bangladesh) spoke on the panel "Innovation as a Tool for Poverty and Inequality Reduction", discussing the role of technology in Bangladesh, where mobile phone-based technology has had a revolutionary impact on banking and healthcare, along with keeping basic connectivity where family members are spread out across the country and beyond. Evolving  internet connectivity comes with challenges and opportunities. Nova commented on the conference: "It was the first time I attended the IAP SPEC Conference. I met an amazing community with renowned people who are down to earth, appreciate young scientists and are humble to answer questions."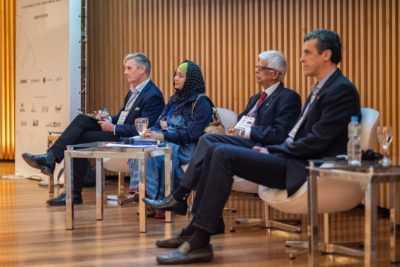 GYA Co-Chair Tolu Oni (UK) joined the panel "Tackling Poverty and Inequality", giving insights on how health care can be integrated beyond health care personnel, through inclusive procedures.