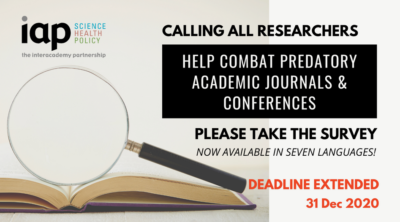 * Call for evidence 1-30 November 2020 – extended to 31 December 2020
* Survey now available in seven different languages
As a vital part of its study on Combatting Academic Predatory Journals and Conferences, the InterAcademy Partnership (IAP) is inviting all researchers, in any discipline, in any country, at any stage of their career, to participate in a landmark survey designed to gauge the extent and impact of academic journal predatory practices. The project is led by an independent working group of international experts nominated by academies around the world, including GYA alumnus Abdullah Shams Bin Tariq (project co-chair) and GYA member and Founding President of the Academy of Young Scientists of Benin Victorien Dougnon.
Survey responses will help the IAP recommend effective ways to combat these practices and protect researchers everywhere.
Please complete the questionnaire here by 31 December 2020; please also share it through your professional networks and with your research community.
The survey is now available in Arabic, Chinese, English, French, Portuguese, Russian and Spanish.