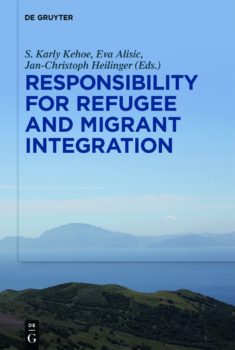 Refugee and migrant integration is one of the most contentious topics in the news and has become a pressing issue, particularly in Western Europe and North America.
'Responsibility for Refugee and Migrant Integration', a new book edited by Global Migration and Human Rights working group members S. Karly Kehoe (Canada), Eva Alisic (Australia) and Jan-Christoph Heilinger (Germany) focuses on the complex nature of integration in European countries and Canada. The book was released on 1 May during a ceremony at the Halle (Saale) City Hall in connection with the GYA's Annual General Meeting and Conference.
The publication includes voices of persons who have been displaced, those who work to support migrant integration, and scientists who undertake comprehensive research on migration and integration processes past and present.
'The vexed question of responsibility in issues of refugee and migrant integration is one of the most important challenges currently facing Western states,' explains Professor Matthew J. Gibney, from Oxford University and Director of the Refugee Studies Centre. 'This considered, wide-ranging and multi-disciplinary edited work offers fresh and provocative insights to help us to navigate this turbulent issue.'
Including important perspectives that are often overlooked and ignored, the collection of essays in the book promotes an extensive analysis of migrant integration and the pressing need for society to work together.
The book discusses how the heated and often polarising debates have made it difficult to understand in measured and constructive ways, the actual challenges of realising an integrated society. These debates occur at governmental levels, through mainstream media, among the wider public via social media, and within migrant communities.
As the editors of the book explain: 'It is becoming harder to separate genuine challenges from populist alarmism. The intensity of the debates also creates a degree of chaos, which obstructs deeper understanding of what it feels like to be a migrant in a new place where almost everything, including language, social norms, food products, and weather is unfamiliar.'
'Responsibility for Refugee and Migrant Integration' challenges individuals to think about their own role, responsibilities and action in respect to migrant integration. Furthermore, the authors posit that the issues raised may help policy makers learn from important historical comparisons and behavioural science insights.
The GYA Working Group 'Global Migration and Human Rights' provides an international and interdisciplinary forum for addressing the global challenges brought about by international migration. It engages in scholarly research, combining insights from different academic disciplines—such as history, international law, psychology and philosophy—and also serves as an advisory group/council, providing policy-oriented viewpoints and guidelines to international institutions based on the unique and multidisciplinary perspective of young scholars.