In 2020, the GYA became an Affiliate Member of the International Science Council (ISC). The ISC strives to be the global voice for science, and promotes science as a global public good. The online General Assembly (GA) in October 2021 brought ISC members – international science unions, science academies and organisations – together to review the achievements of the past 3 years, and discuss the 2022-2024 Action Plan "Science and Society in Transition", as well as to facilitate general business discussions, move forward strategy papers, and hold elections.
The GYA congratulates the newly elected Governing Board, led by incoming president Sir Peter Gluckman, which will provide scientific and strategic leadership to the Council. Outgoing president Daya Reddy addressed the GA, discussing the challenges faced in the last years, and the accomplishments based on a firm foundation in the ISC vision, mission and core values, particularly the principle of freedom and responsibility in science.
During the GA, the first edition of the ISC Awards Programme was launched, and awardees were announced in 10 categories, in recognition of leading research and promotion of free and responsible science, accessible to all. Congratulations from the GYA to all awardees, with special mention to the Early Career awardees in five world regions – including GYA member Shymaa Enany (Suez Canal University, Egypt) – and to Scholars at Risk, recipient of the Scientific Freedom and Responsibility Award and partner organisation in the GYA At-Risk Scholars Initiative. See all awardees here: 2021 ISC Awards – International Science Council.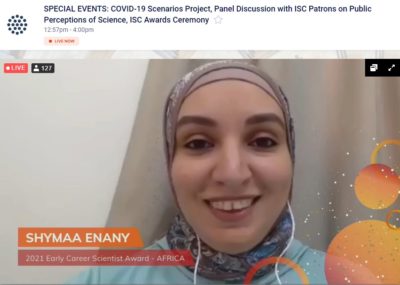 How does the GYA's Affiliate Membership in the ISC affect GYA members?
The ISC as a global, cross-disciplinary organisation thrives with the engagement of its members, similar to the GYA. Thus not only the GYA leadership and administrative headquarters, but also all of its members, are invited to be actively engaged in ISC activities. The GYA Executive Committee and GYA Office follow ISC activities regularly and share opportunities, calls and events with GYA members. At the same time, GYA members may benefit from following specific activities related to their work individually as well.
The ISC continues to develop its work with intergovernmental actors, including UN bodies, on science-for-policy topics, particularly on issues relevant to international policy, such as climate action and biodiversity, but also, for example disaster risk reduction and COVID-19.
Further, the ISC works in the area of policy-for-science, and to promote scientific freedom and responsibility.
More about the ISC
Examples of recent and ongoing ISC-GYA collaboration