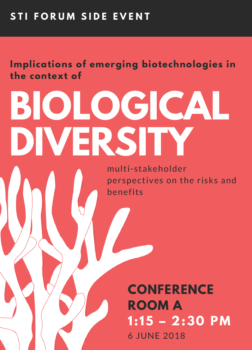 On 6 June 2018, DIY Biology and Bio2Bio working group member John Malone (USA) served as a panelist at the United Nations Multi-stakeholder Forum on Science, Technology, and Innovation side event titled 'Implications of emerging biotechnologies in the context of biological diversity: multi-stakeholder perspectives on the risks and benefits'.
The event was organized by the Yale Institute for Biospheric Studies – Editing Nature, Innovative Genomics Institute at UC Berkeley and the UN Major Group for Children and Youth. The event was moderated by Natalie Kofler, Founder of Editing Nature, and brought together five panelists: Andrew Newhouse – American Chestnut Research and Restoration Project, John Malone – University of Connecticut Institute of Systems Genomics, Devora Najjar – Sculpting Evolution Group at MIT Media Lab, Jim Thomas – Action Group on Erosion, Technology, and Concentration, and Swetha Bhashyam – Global Youth Biodiversity to discuss the role of gene editing and gene drive technologies in making progress towards the United Nations Sustainable Development Goals (SDGs) and the 2030 Agenda.
Gene editing and gene drives are emerging as potential tools for protecting threatened species, eliminating invasive species, and reducing human disease. These technologies have the potential to target genes in ways that transform interactions between species. By editing nature to engineer ecosystems for specific purposes, these technologies may have long-term consequences for species worldwide and disproportionately affect humans and ecosystems in complex ways.
Panelists discussed these issues from laboratory research, biodiversity, social policy, environmental, and conservation perspectives. Cautionary viewpoints were raised from audience participants and several panelists highlighted the need for understanding and more research on how these technologies work before they are applied to natural ecosystems. Overall, the event created important dialogue for thinking about these emerging tools, their impact on biodiversity, and how or when they might be used as tools to help create a sustainable future for both humans and the planet. The GYA DIY Biology and Bio2Bio working groups continue working on these important issues.