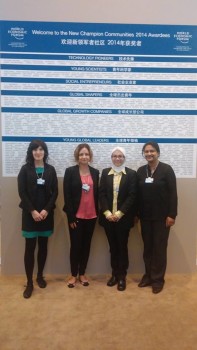 Five GYA members are going to participate at the World Economic Forum Annual Meeting of New Champions. Amongst them are Ivana Gadjanski, Maite Martinez-Aldaya, Vanny Narita, Noble Bannada, and Vidushi Neergheen-Bhujun.
Moreover Ivana Gadjanski was invited to represent the Young Scientist at the "New Champions Plenary" and to take part in the official program as a panelist at the "Gender in STEM" discussion.
The New Champions Plenary aims to answer two main questions:
Part I:  What new discoveries are being made through basic research and disruptive innovations?
Part II:  What are the global grand challenges/issues where sustaining and breakthrough innovations are being created?
Ivana Gadjanski will share what grand challenges and global issues are driving her work to shape a better future.
You can follow the updates of our members on our Twitter and Facebook accounts.
More information about the WEF Annual Meeting for New Champions can be found at http://www.weforum.org/events/annual-meeting-new-champions-2014.