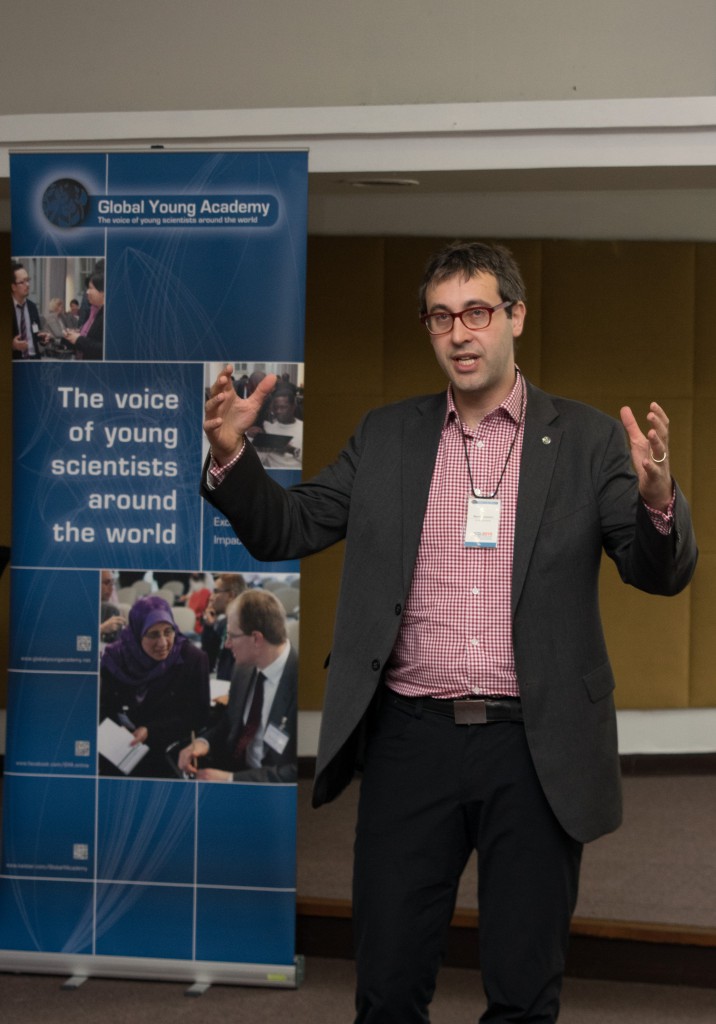 "The promise of synthetic biology is not just what can be produced but by whom and where", GYA alumnus Rees Kassen underlined during his presentation at the IAP 2016 Conference and General Meeting on 29 February. The former GYA Co-Chair and current Professor and Research Chair at the University of Ottawa gave a talk in the third panel discussion "Science Advice in the International Arena with a Special Focus on Synthetic Biology" and visibly struck a nerve. His address was titled "Do-It-Yourself Synthetic Biology: A New Geography of Research" and emphazied the importance of engaging with young researchers in developing science advice. His presentation slides are available here.
Key figures working in this rather young domain are typically young scientists who lack extensive professional training and do not operate within academia, industry or government. Professor Kassen introduced his colleague and fellow GYA member Andrew Pelling, recently elected TED Fellow and head of Pelling Lab for Biophysical Manipulation. His team creates living biological objects that do not exist in nature. Pelling had presented his work at last month's TED Conference in Vancouver, explaining how to use apples and human cells to make ears in a petri dish. In his TED talk, he described his lab as a "playful, exploratory space where scientists, engineers and artists gather to ask questions and try to figure out how to answer them".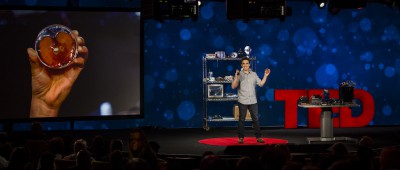 "The community of researchers doing this work are young, not professionally trained as researchers, and are working in non-traditional spaces (shared labs, kitchens, garages, etc.) and so we need a new model for science advice that senior academies (none of whom even knew this was happening) are not well placed to provide", Rees Kassen sums up the challenges facing this discipline, addressing the scientific community directly. It is therefore extremely important to identify leaders and experts working outside of the 'normal' academic community and institutions for research, he claims.
Additionally, Kassen had brought with him suggestions for improving the ties between classical and new "geographies of research", emphasising current efforts by some players in the field, including Synthetic Biology workspace hubs BricoBio and BioFoundry. He urged scientific institutions to establish links to these institutions, as well as engaging the community via mayor Do-It-Yourself competitions as conducted by the International Genetically Engineered Machine Foundation (iGEM), the International Bio-Molecular Design Competition for students (BIOMOD) at Harvard University and the Critical Assessment for Genetically Engineered Networks (CAGEN) and added by other forms of support in the co-development of standards and tools.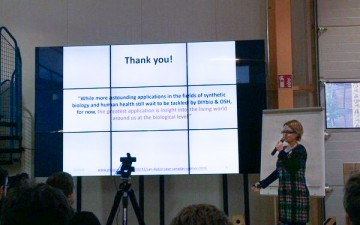 Professor Kassen's talk was followed by an animated discussion with some of the present scientists voicing concern about new products, compounds, and potentially pathogens possibly being created at home. This being a topic of vital importance for the young scientists community, the GYA finds itself in a major mediating role. GYA members such as Andrew Pelling and Ivana Gadjanski from the R&D Center for Bioengineering in Belgrade are directly involved in this research and thus affected by any measures taken by the science community. Supporting innovative and ethical research in the promising field of Synthetic Biology, consequently, should be an important concern for the entire scientific world and for young academies especially.