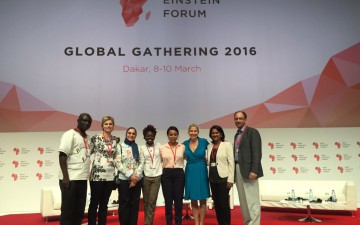 The Next Einstein Forum (NEF), a New Global Forum for Science in Africa, showcased 15 of Africa's top young scientists – four of them GYA members! – and connected them with leading scientists, policy-makers, business people, journalists, civil-society representatives and entrepreneurs from Africa and globally during the Global Gathering 2016 from 8-10 March 2016 in Dakar, Senegal.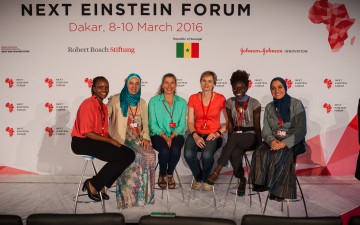 And also beyond the NEF fellows GYA members were prominently present throughout the program: NEF Fellows Noble Banadda (Uganda), EC-member Ghada Bassioni , Sherien Elagroudy (both from Egypt) and Tolu Oni (South Africa) were featured in the NEF Fellows Spotlight Sessions. Abdeslam Badre (Morocco), Vidushi Nergheen (Mauritius), Setonji Samuel Olatunbosun Sojinu (Nigeria) and Dexter Tagwireyi (Zimbabwe) were invited as ambassadors, former co-chair Bernard Slippers (South Africa) and member Maarten van Herpen (The Netherlands) joined as plenary speakers.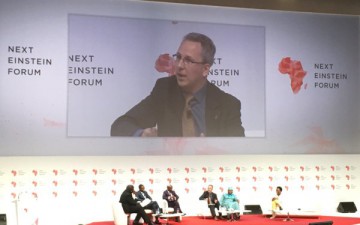 The four NEF fellows among the GYA members have participated in a three week coaching session with TED Coach Lisa Shufro in order to present their work in a Spotlight Session."The coaching was a very enriching experience both for me personally and for my professional development, and all were very satisfied with the results," Ghada Bassioni reported. And Sherien Elagroudy added that the training and participation in the spotlight session as well as the extensive exposure to media representatives sharpened her skills to explain her own research to a wider public in a short timeframe. The NEF Spotlight Talks by Noble Banadda, Ghada Bassioni, Sherien Elagroudy, Tolu Oni and others are available on YouTube.
| | |
| --- | --- |
| Noble Banadda presenting on how to tranform waste to fuel. © Tolu Oni | Ghada Bassioni during her Spotlight Session at NEF 2016 on dangers of aluminium leaching. © Gameli Adzaho /Twitter |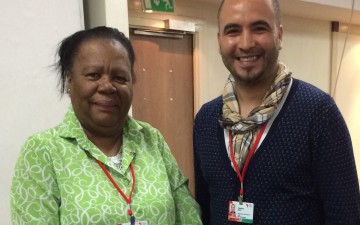 Besides his participation as the NEF ambassador from Morocco, GYA member Abdeslam Badre also took part in numerous other activities three of which he co-lead. Among them were a UNESCO side event on Science Diplomacy in Africa a session on "Driving the Agenda for African Women in STEM", featuring the Minister of Science and Technology Naledi Pandor. And it was no coincidence that this session was on 8 March, International Women's Day, as NEF specifically wanted to highlight the importance of fostering female researchers in Africa. As President of Rwanda Paul Kagame pointed out in his address during the opening ceremony of Next Einstein Forum 2016: "Women comprise less than one third of researchers and even fewer scientists and engineers, which means we are not using our human resources to the full."
As the NEF Gathering connected many different players around the GYA, it presented a unique opportunity to promote the Academy and its activities. The GYA members received overwhelming interest for their projects, especially Women in Science, the Young Scientist Ambassador Programme and the African Scientist Leadership Programme. Apart from a considerable extension of the network,  international media interest was enormous.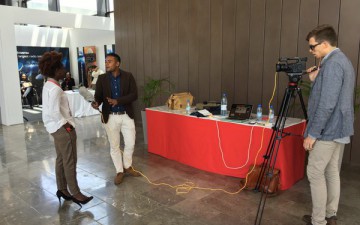 All participating members emphasise the benefits the gathering presented to them personally and their scientific work. The 15 NEF Fellows are currently initialising new common projects, bringing back with them tangible objectives for both short and long-term collaborations. The Next Einstein Forum in 2018 is planned to be held in Kigali, Rwanda with preparations already in progress. Sherien Elagroudy concludes: "NEF was an excellent platform to find collaborators who share my interest, and connect with expertise to make these projects happen to benefit Africa."
Overall the Next Einstein Forum clearly showcased the potential of African Young Scientists and their important contribution to the global scientific landscape. Highranking officials such as President of Senegal Macky Sall and President of Rwanda Paul Kagame – who amongst others also handed out prices for the NEF Fellow's scientific achievements – reassured the important role of science especially of the young scientists for the future of the continent. NEF 2016 made it clear – the "Next Einstein" might as well come from Africa, and young scientists are on the forefront of proving it.