The IAP Conference and General Assembly, hosted by ASSAf and held in Hermanus, South Africa, from 28 February to 2 March 2016, explored five topics under the theme of Science Advice. The Global Young Academy, an observer to the IAP, was represented by Co-Chair Eva Alisic (Australia) and immediate past Co-Chair Sameh Soror (Egypt) acting as members of the Conference Committee, as well as by Co-Chair Orakanoke Phanraksa (Thailand), former Co-Chairs Rees Kassen (Canada) and Bernard Slippers (South Africa), alumnus Jorge Huete Perez (Nicaragua) and new member Tolu Oni (South Africa) as panellists. Each of them represented young scientists in one of the five guiding topics. Tolu Oni had additionally participated in the "Science Advice Workshop for African Scientists" preceding the event.
Participants furthermore included South African Minister of Science and Technology Naledi Pandor and Chief Scientific advisor to the Prime Minister of New Zealand, Prof Sir Peter Gluckman, as well as key figures from scientific academies around the globe. The conference was divided into a variety of panels and key note addresses in order to describe the different ecosystems of the field in different settings and explore the role of scientists in informing policy routinely, during disasters and conflict and on existing and emerging societal issues.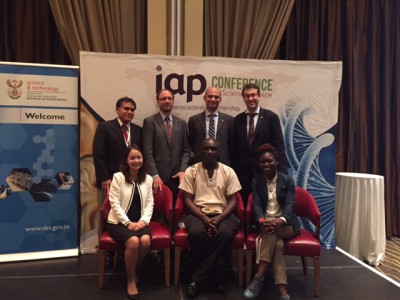 Tolu Oni gave a talk on "The role of emerging scientists and Young Academies". Naming various key issues for science advice today, she pointed out that public support is crucial to policy makers and scientists and that routine engagement improves public literacy. Furthermore, she pointed out that science advisors should be representative of all of society across gender and age to increase societal credibility. In showing how Young Academies across the globe are working on involving the public and overcome traditional borders, she emphasized the major role they can play in creating an interdisciplinary science community.
In the second panel, Bernard Slippers presented the "Voice of Young Scientists in Times of Disaster and Emergencies". "There is a growing global recognition of the importance for the voice of young scientists to be heard in policy, science advice and societal engagement", he stated. "In a rapidly changing world, young scientists are often the most highly skilled and knowledgeable in fast developing research fields, make up a prominent and productive part of the scientific workforce and are key to intergenerational dialogues about a sustainable future." He expressed his concern about the lack of opportunities for young scientists in many countries and encouraged governments and academies to invest in the development of Young Academies.
During the third panel, Rees Kassen raised a vivid discussion when talking about "Do-It-Yourself Synthetic Biology: A New Geography of Research". He presented a branch of young scientists outside the traditional spaces and argued in support of establishing links between non-conventional research hubs and established institutions, both for better assistance and monitoring of the proceeding in this promising field. Find more suggestions and how the GYA aims to help in this here.
The following day started with a panel on Country Readiness for Science Advice, with GYA Co-Chair Orakanoke Phanraksa examining her own country on the subject. She concluded: "Thailand is a country under transition, reforming its science, technology and innovation policy across the nation. Currently, the Thai government is gearing towards the issuance of the national STI legislation, one goal of which is to establish the national scientific advisory council."
Sameh Soror had been invited to discuss with distinguished scientists Bruce Alberts, Linda Nordling, David Mair and Charles Weijer, IAC Co-Chair Robbert Dijkgraaf presenting the session. The guiding questions were focused on the participants' experiences with science advice and communication with policy makers and the media, especially under difficult conditions. All agreed that there is a difficult relationship between science and media, yet communication is essential for scientists to reach society. "We need capacity building, especially for young scientists, to be able to communicate their findings in an easy and understandable language. They should develop their skills to represent their science in an attractive way to society, including new media for communication with the younger generations", Professor Soror stated.
In-depth discussions far exceeded the conference hours and promising new contacts were established, including a cooperation with Sir Peter Gluckman to establish the African chapter of INGSA (International Network for Government Science Advice) with a strong potential for support of young scientists throughout the continent. Sameh Soror and Tolu Oni are part of the small group setting up this chapter, their key role being to ensure young academies are a an important part of those plans.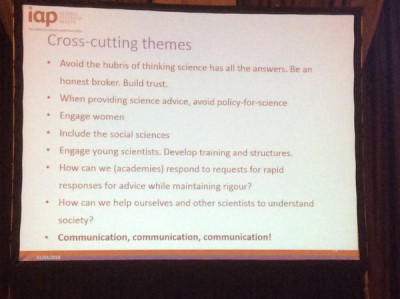 Rees Kassen's panel talk and the reactions to it have made it clear that non-traditional research practices are a highly topical concern in the global community. The GYA with its strategic position at the hub of the young academic world plays a leading role in supporting innovation in research practices and in taking on the issue of Do-It-Yourself Synthetic Biology, featuring the flagship research of emerging scientists such as GYA members Andrew Pelling and Ivana Gadjanski.