The first Gathering for Open Science Hardware (GOSH!) took place in Geneva, Switzerland from 5-7 March 2016. GYA members Ivana Gadjanski and Andrew Pelling took part in the conference, Ivana giving a talk on Open Hardware in the Biomedical Field (from 03:17:00). GOSH! 2016 brought together 50 developers and thinkers in the Open Science Hardware space with diverse backgrounds at the IdeaSquare building at CERN, the European Organization for Nuclear Research. Aiming to form a community establishing a common ground and promoting communication in the Open Science sector in an ongoing discourse, the conference addressed challenges and possible solutions.
Just like Rees Kassen had emphasised at the recent IAP Science Advice Conference, the GOSH! website states: "Although scientists are frequently natural tinkerers, the current supply chains for science hardware limit access and impede creativity and customisation. Open Science Hardware addresses part of this problem through sharing open designs, often taking advantage of modern digital fabrication techniques". Central topics were new ways of cooperation and financing, as well as 'crowdsourcing' as an option to gather expertise outside the established realms of science.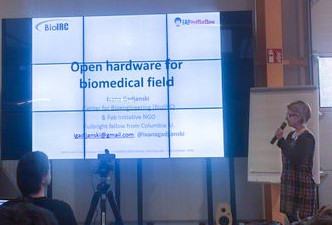 GYA member Ivana Gadjanski presented new demands in the Health and Medicine sector during the midday panel. Biomedical technologies are expensive and thus have limited access, especially in developing countries. Open Science Hardware could help in increasing accessibility and public understanding of biomedical technologies and in creating a global market outside the dominating pharma industry, as exemplified by initiatives like the Open BioMedical Initiative and Fab Initiative in Serbia.
An important input of the conference was given through the workshop sessions from Gaudi Labs, featuring a variety of research labs and Open Science organisations. Initiatives like SafeCast (prominently represented by Sean Bonner) and Public Lab have combined DIY sensing and citizen science within a broader theme of environmental justice. Atomic force microscopes (Lego2Nano) demonstrate the breadth of possible research applications. Initiatives like Backyard Brains aim to use open hardware to teach neuroscience to broader public while projects like OpenLabTools develop tools as an educational research exercise. The potential of Open science hardware in low-resource settings is promoted by organisations such as TReND in Africa.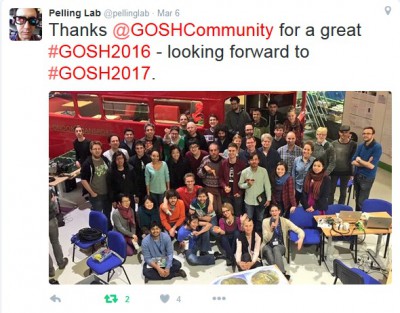 Many new ties were established with these as well as a promising collaboration opportunity between the GYA and DocuBricks, an open source and free software that aims to make documenting hardware and usage procedures easier. The meeting ended with the official formation of the GOSH! Community, as well as the drafting of an Open Science Hardware Manifesto to be developed collaboratively and will be publicly available soon.
More photos can be found on Flickr. Part of the conference was also broadcasted on YouTube.