16-18 November 2015 in Stockholm, Sweden
From 16-18 November 2015 the Global Young Academy (GYA), the Young Academy of Sweden (YAS) and the European Commission's Joint Research Centre (JRC) co-organized the 2nd Worldwide Meeting of Young Academies and Joint Conference on "Scientific support for policy making in sustainable development: Joining forces" in Stockholm, Sweden. Nearly all National Young Academies (NYAs) from around the world as well as some initiatives and similar organizations from a total of 32 countries were represented in this meeting.
2nd Worldwide Meeting of Young Academies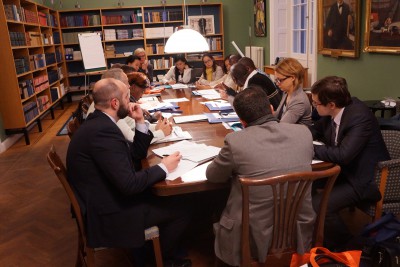 Three years after the 1st Worldwide Meeting of Young Academies in 2012 in Amsterdam, The Netherlands, this second meeting offered again a great opportunity of exchange, inspiration and plans for cooperation.
In the meantime, the movement has grown to currently 30 National Young Academies worldwide as Eva Alisic, Co-Chair of the GYA from Australia, pointed out. Young Academy representatives met in a speed-dating session in rotating pairs for five minutes each to draw up at least one joint project or find common points of interest. In following breakouts on topics determined by the participants, such as outreach and dialogue, influencing research policies, internationalization and networking; and the initiation of National Young Academies, groups of representatives exchanged experience in more detail. Issues of regional concern and plans for regional cooperation were discussed in regional breakout sessions for the three major regions with NYAs (Africa, Asia and Europe).
On the last day, moderated by GYA Managing Director Heidi Wedel, representatives of young academies exchanged successful formats and activities. For example, the recently founded Indonesian Young Academy of Sciences (ALMI) presented their contribution to a first consensus report "SAINS45-An Indonesian Science Agenda: Formulation of 45 Fundamental Scientific Questions for the Future of the Nation". The South African Young Academy of Science (SAYAS) has a strong outreach program with science in society activities.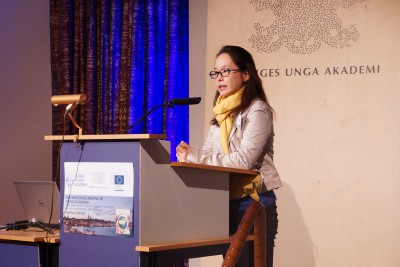 GYA Co-Chair Orakanoke Phanraksa (Thailand) presented the GYA's mission to promote international, interdisciplinary and intergenerational dialogue and build science capacity in high-income as well as low- and middle-income countries. She also explained the 'Global State of Young Scientists' (GloSYS) project: empirical research initially in ASEAN and African countries on career paths and working conditions of young scientists with a view to improve them. These regional studies will feed into a global overview.
YAS Chair Jenny Larsson presented the YAS summer research school, popular scientific podcast series "Akademipodden", and the successful network for researchers and members of parliament. She also highlighted the recently launched Torsten Wiesel Midnight Sun Award for Distinguished Achievement in Promoting Science, to which Young Academies were invited to nominate.
In a discussion on what could be done to increase the number of women in African Young Academies, Senegal, Ghana and South Africa shared successful efforts that included quotas for women, targeted approach to prominent women researchers or prioritizing women if equally qualified. During one of the following thematic outbreak session gender and other biases were addressed more generally and participating academies suggested a GYA-coordinated project on diversity in young academies with a policy implementation orientation and a reference to the SDGs.
In the concluding session the young academies identified a number of areas of joint interest on the fields of research policies, engagement with politicians and society and science education and lots of potentials for future cooperation. Plans for regional meetings were also discussed. The GYA is set to co-organize a 3rd Worldwide Meeting in about 2 years.
Joint Conference "Scientific support for policy making in sustainable development: Joining forces"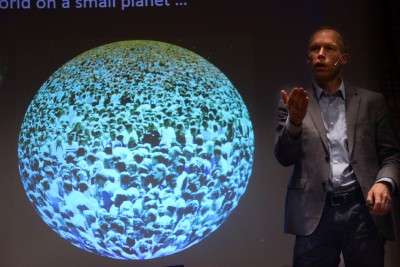 Part of the Worldwide Meeting was a Joint Conference, co-organized with the European Commission's Joint Research Centre (JRC) on "Scientific support for policy making in sustainable development: Joining forces". The aim of this dialogue between young scientists and experts from the areas of policy making and science policy advice was to discuss the role of science in sustainable development and the outcomes of the UN Summit in New York in September 2015.
At the opening of the conference JRC representative Ulla Engelmann underlined the crucial role young scientists and young academies can play for the implementation of the Sustainable Development Goals. She expressed the hope that this conference, which is the first joint activity with the GYA after the two organizations signed a Letter of Intent, will raise the momentum.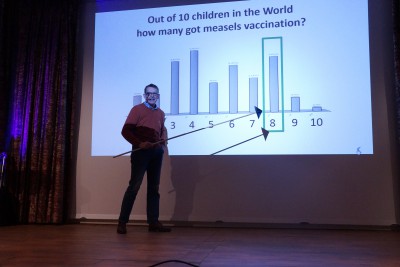 Prominent keynote speaker Johan Rockström, Professor in Environmental Science, Director at the Stockholm Resilience Centre, and recent recipient of the largest European environmental prize, the German Environmental Award, tested the participants' knowledge about the success in implementing the Millennium Development Goals and underlined the need to simplify if we want to explain the world. Hans Rosling, Professor of International Health, listed as one of the 100 most influential people in the world by Time Magazine, gave stunning presentations from the latest research on the state of the Earth and of public health and education across the globe.
Peter Honneth, Swedish representative on the JRC Board and former State Secretary Education and Research in Sweden, called upon scientists to get involved, as politicians need better scientific advice than they often get. Scientists should reach out the public and be open to include non- scientific knowledge in order to change the world to the better. Maja Fjaestad, State Secretary to the Swedish Minister for Strategy and Future Issues, presented insights about how researchers and policy makers can work together for a better future. UN Development Programme (UNDP) representative in Sweden, Caroline Åberg, connected to Keynote Johan Rockström's presentation and stated how ambitious the Sustainable Development Goals (SDGs) Agenda 2030 is. The preceding Millennium Development Goals were already ambitious and in many aspects a great success – a fact of which many scientists are not fully aware as Hans Rosling critically remarked. Their successful implementation might have encouraged the expanded aspirations for the 2030 agenda. Its SDGs were developed in an inclusive consultation process, are much broader and a guideline not only for developing countries but worldwide.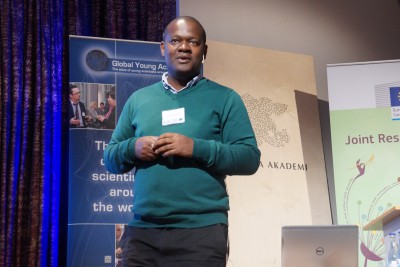 How science can support the implementation of the SDGs was discussed by senior and young scientists. Experts from the JRC presented several projects with importance for the SDGs, such as food security, disaster risk assessment activities and the EU Aid Explorer that provides transparency and a basis for a more effective coordination of the EU donors' efforts. JRC Statistics expert Michaela Saisana convincingly argued for the significance of being able provide figures to achieve goals. Among the Young Academy members to give talks on the implementation of the development goals were GYA member and expert in bioprocessing and engineering Noble Banadda (Uganda), and YAS member and climate scientist, Helena Filipsson.
The conference concluded with a panel discussion on the way forwarded, moderated by GYA member Karly Kehoe, Co-Chair of the Young Academy of Scotland. In her closing remarks Ulla Engelmann from the JRC reminded the participants that this conference is a result of the Letter of Intent signed between the JRC and the GYA. It should be followed by other joint activities such as the Invisible Worlds project and initiatives at the science –policy interface that is so central for both the JRC and young academies. GYA Co-Chair Eva Alisic highlighted action points for Young Academies and proposed three "marriages":
1) to bring together the disciplines: Young Academies have an excellent starting point for this as they have a variety of disciplines in their membership and are set to promote capacity building fostering interdisciplinarity;
2)  to bring together scientific and non-scientific knowledge like in the fab labs presented by Ivana Gadjanski (GYA member from Serbia) and
3) to bring together politics and scientists e.g. at science breakfasts or with fellowships/internships/pairing schemes.