The Global Young Academy endorsed a statement communicating the scientific foundation for action with regard to Climate Change. Therewith the GYA is lending the support of young scientists around the world to this global issue, and also gained the support of a number of National Young Academies, including the Egyptian Young Academy of Sciences (EYAS), the Young Academy of Japan and the Young Scientists Network-Academy of Sciences Malaysia as well as the University of Dhaka, Bangladesh.
Climate change is one of the greatest threats currently facing society, and successful solutions will depend on global cooperation. 2015 is a decisive year with eyes set at the 21st UN Framework Convention on Climate Change (UNFCCC)'s Conference of the Parties (COP21), also known as the 2015 Paris Climate Summit, that for the first time in over 20 years of UN negotiations, aims to achieve a legally binding and universal agreement on climate, with the aim of keeping global warming below 2°C. Several members of the Global Young Academy (GYA) Climate Change and Disaster Risk Reduction Working Group had participated in the preceding "Our Common Future Under Climate Change" conference and co-developed a session on "Transforming Science to Transform Society".
With close to 2,000 participants from almost 100 countries the conference was  the largest forum for the scientific community held in preparation of COP 21 from 7-10 July 2015 in Paris, France. It addressed key issues concerning climate science and societal responses. It buildt on the results of Intergovernmental Panel on Climate Change's 5th Assessment Report. The entities that organized the conference included key collaborators of the GYA, such as the International Council for Science (ICSU), Future Earth, and UNESCO.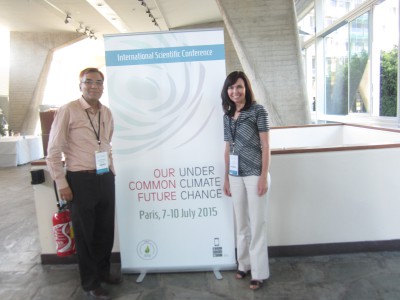 "Science is a foundation for smart decisions at COP21 and beyond. Solving the challenge of climate change requires ambition, dedication, and leadership from governments, the private sector, and civil society, in addition to the scientific community."
Following the conference "Our Common Future Under Climate Change" an outcome statement was developed. The statement builds on understanding of the current problem and solution space and communicates the scientific foundation for action on Climate Change. The statement will be promoted during a specific event at COP21 and can be downloaded below.