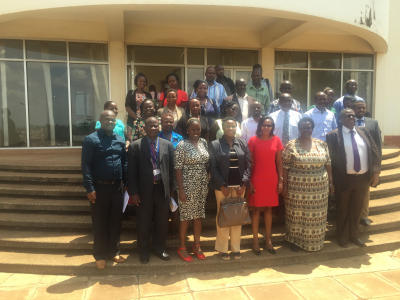 On 29 September 2015 the Uganda National Academy of Sciences (UNAS) launched the National Young Academy  at Makerere University School of Food Technology, Nutrition & Bio-Engineering. An interim committee of five young researchers have been given the mandate to steer the Ugandan NYA. Noble Banadda, a member of the Global Young Academy (GYA) was proposed as the interim chair. A general meeting will be conveyed within three months.
The launch was attended by representatives of  the Government from the Ministry of Education, Science, Technology and Sports as well as Fellows and Members of Uganda National Academy of Sciences, Young Scientists, Researchers and Medical practitioners. Mrs. Elizabeth K.M. Gabona, Director for Higher, Technical and Vocational Education and Training (HTVET) represented the Minister of State for Higher Education, Science and Technology as the guest of honor. She noted that the launch of this National Young Academy (NYA) was a very timely and important initiative to give young people a voice to lobby government and influence communities positively. According to her the young researchers are key players in building the future of any nation and must not be left behind or taken for granted. Gabona moreover announced that the Ministry of Education, Science, Technology and Sports was committed to supporting initiatives of the National Young Academy.
The Global Young Academy was represented by the Executive Committee (EC)-member Fridah Erastus Kanana who reminded members that the launch was among others to give voice to young scientists in Uganda by providing a channel for its members to actively participate in policy development; to encourage interactions with media organizations, through workshops, internships and job partnering; to develop statements on science issues of national and global importance and also to empower young researchers to lead international, interdisciplinary, and intergenerational dialogue with the goal of making global decision making evidence-based and inclusive.
Congratulations to the launch of UNYA!