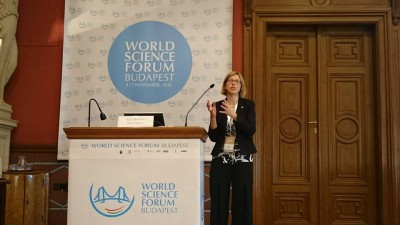 The World Scienec Forum 2015 (WSF) takes place from 3 to 7 November 2015 in Budapest, Hungary. The gathering included the Global Young Academy (GYA) co-organized side event on "Scoping the Future: Views and Ideas of Young Scientists to tackle Global Challenges" from 1 – 5 pm on 4 November 2015. It was a joint session by the GYA, the InterAcademy Partnership (IAP), the World Association of Young Scientists (WAYs) and the International Consortium of Research Staff Associations (ICORSA).
The four organizations representing young scientists around the world came together for the first time to present a unified voice for the emerging international young scientist's movement, which is demanding a seat at the table in policy discussions and decision making that require scientific input.
Among the 50 selected young scientists of this closed session were 12 GYA members. In an interactive session the participating researchers from 20 countries were asked to analyse challenges and opportunities facing young scientists globally, identify strategies that link global challenges to career opportunities for young scientists, and present policy recommendations that will empower young scientists to impact the Sustainable Development Goals (SDG's).
The results of this process were presented as idea pitches in a 'competitive' plenary session to a distinguished panel of experts immediately before the World Science Forum opening ceremony. Young scientists presented five ideas on health, clean water, education, jobs, and responsible consumption. Ideas were judged on originality, practicality and persuasiveness. The winning group (Team Jobs of the Future) focused on SDG8, Decent Work and Economic Growth, pitching a gap analysis for the skills that would be required for the jobs of the future. Their idea included developing suitable training courses to provide a talent pipeline to supply future workforce needs.
IAP Co-Chair, Mohamed Hassan, said of choosing the winning team, "It was a dynamic session with original ideas from future science leaders. It was a difficult decision to choose a winner. In the end we went with the team that had visionary ideas for transforming SDGs into reality."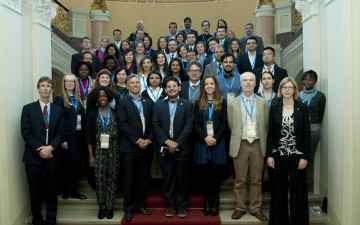 Besides participating at "Scoping the Future" our members have other roles at this years' World Science Forum. On 6 November 2015, GYA Co-Chair Eva Alisic is a speaker at the high level ICSU/ JRC joint thematic session "Building Resilience in a Changing World" from 2.30 – 4 pm.
In addition, GYA member Abdeslam Badre from Morocco is invited as speaker at a session on "Science Governance in Africa: Challenges and Opportunities" on 6 November 2015 from  4.30 – 6 pm.
Update 10 November 2015: IAP published a report on the event – http://www.interacademies.net/News/28907.aspx.
GYA member Ivana Gadjanski addressed the participants of the World Science Forum as representative of the Young Scientists at the closing session. Read the full text of her speech or watch a video.